How to Make Your Dental Bookkeeping More Effective
By Analytix Editorial Team
December 9, 2019
0 Comments

So you are running a dental practice and want it to grow. Let's face it, you've already got your hands full managing your clinic, the staff, and your patients. But, like any business, dental clinics require strict bookkeeping practices in order to thrive financially. To improve the accuracy and efficiency in bookkeeping, check out these
Read More...
List of CFO Services That Small Businesses Can Outsource
By Analytix Editorial Team
November 27, 2019
5 Comments

Growing small businesses often reach an internal tipping point when they need a CFO to handle financing strategies, budgets, and be the sounding board before big decisions are taken. However, small businesses typically can't afford a full-time CFO and often don't need one either. An outsourced CFO services is best option for small businesses. But
Read More...
CPA FAQs – How Can I Add Value To My Tax Audits?
By Analytix Editorial Team
November 13, 2019
0 Comments

With today's growing and ever-changing regulations and compliance landscape, clients expect their accountants to offer more value-added services in addition to bookkeeping. This new growth mindset is not limited to CPAs, as accounting firms are also creating ways to add more value. According to SourceMedia Research, 98% of accounting firms are exploring ways to diversify
Read More...
Top Five Business Financing Options
By Analytix Editorial Team

As a business owner, it can be a daunting task to determine the perfect financing option for the growth of your small or mid-sized business. Let's dig into the top five ways of financing: debt, equity, and the latest alternative financing options: crowdfunding, peer-to-peer lending, and corporate cards. Types of Financing Options Available 1. Debt
Read More...
Top Three Ways to Make Your Business Creditworthy
By Analytix Editorial Team

Want to grow your business? Good business credit is the key to getting funding for your venture, but establishing a positive business credit history does not happen overnight. Here are the top three ways to make your business creditworthy. 1. Maintain a Healthy Business Credit Score Your personal and business credit history is an important
Read More...
Why Your Business Must Have a Budget
By Analytix Editorial Team

For various reasons, many small and mid-sized businesses don't budget. A staggering 61% of small businesses didn't create a budget in 2018 and around 82% of startups fail just because of cash flow problems. Below are five reasons why budgeting leads to financial stability and success of your business. 1. Predicts cash flows and avoids
Read More...
The Anatomy of a CPA Tech Stack
By Paul Salvaggio
September 5, 2019
0 Comments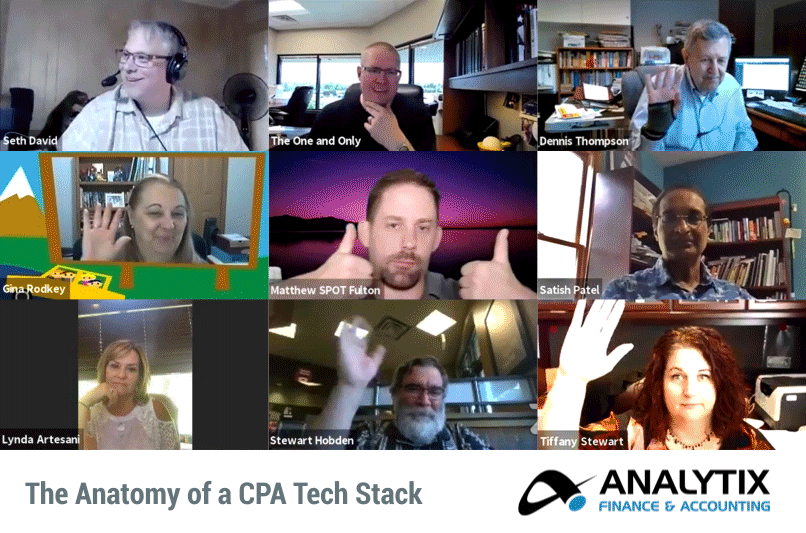 While technology can ease the modern CPA's workload, it can also drive them completely mad. To help control the chaos and boost productivity, CPAs require a Tech Stack. It's a set of third-party apps and connected services designed to work together and boost your daily efficiency and effectiveness. Sensitive data, regulatory changes, and savvy competitors
Read More...
Leveraging Online Accounting Services for CPA Firms
By Analytix Editorial Team
September 3, 2019
0 Comments

Most contemporary practices, including CPA firms, utilize modern technology to manage their data more efficiently. This includes startups and even small businesses where electronic document management systems and cloud based reporting are gaining traction in replacing paper files, especially for processes such as accounting and bookkeeping. There are many benefits to online accounting, several of
Read More...
10 Most Useful Tax Tips for Restaurants
By Analytix Editorial Team
August 27, 2019
0 Comments

Most startups and small businesses are familiar with tax filing time chaos: hurried organizing of transaction records, looking for loose ends such as missed payments or missing receipts for payments made, etc. For restaurants however, the financial loss incurred due to a last-minute rush can be significant, given the sheer volume of transactions. Startups and
Read More...
CPA FAQs – Preventing the Negative Impact of Low Cash Flow on Clients
By Analytix Editorial Team
August 20, 2019
8 Comments

82% of startups and small businesses fail due to poor cash-flow management! Has a new business client ever come to you after a missed payroll? Turns out your vendor trust is more than just a firm handshake when your cash flow is running low. While it is only natural for small business owners to focus
Read More...