How do you ensure the efficiency of your company's operations within the framework of your existing financial department? Keep a sharp eye on the performance of your business processes and key metrics associated with them. Below are some suggested metrics you may consider integrating into your financial analyses in order to measure whether your current financial processes are optimized or not.
Receivables Turnover Ratio- This is a company's credit sales divided by average account receivables, and it is an indicator of how efficiently a business collects credit extended to customers or clients. Maintaining a sound accounts receivables practice can greatly help maintain the liquidity of a business, reducing the possibility of money lost as a result of missed collections. As a small business on a budget, you might already be following established practices to ensure that your financial processes are on track.
Days Sales Outstanding (DSO)- Metrics that reduce the amount time it takes to collect receivables can help you tighten your cash flows and ensure that more cash stays within the business. One rule to remember is that you should not keep accounts receivable open for an indeterminate period. The longer your money remains unpaid, the higher the chances of uncertainty on collecting it.
Month-end Closing Period- Ideally, month-end closing should be wrapped up within a one month period. However, in practice the month end closing often extends into the next month as well.
Month-end closings that move beyond the first week of the subsequent month indicate a need to streamline your processes. If your paperwork is not in order, your actual month-end closing can last for an inordinately long time, depending on the volume of work that needs to be completed.
Rapid Follow-up for Accounts Receivable- Your accounts receivable needs an efficiency check if it is taking more than 30 days, or if cash remains uncollected and pending for more than a month. It may also be helpful to establish a maximum collection time period, for example 35 days. Consider automating certain key functions and enabling reminders to notify you about which accounts to pursue as they approach that maximum collection period. Also, consider incenting early payments by offering discounts.
Daily reconciliations- If you've defaulted on your daily reconciliations, your month end closing can become a daunting task. Ideally, reconciliations should be performed on a daily basis. Banking especially should be reconciled everyday instead of being pushed back. As with accounts receivable collections, banking reconciliations in addition to general ledger reconciliations lend themselves well to automation, which could provide enormous gains in productivity.
Consider evaluating your financial processes based on the above metrics and practices to improve efficiency for your business.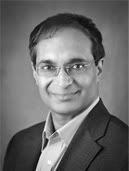 Satish Patel, CPA
President, Analytix Solutions
Satish Patel, Founder-CEO of Analytix Solutions, has more than two decades of experience as a CPA. He has also advised small and mid-sized businesses on diverse matters such as valuation, accounting, and finance. His experience extends to raising capital and arranging for finance from angel investors.