Why Your Business Needs Cloud-based Accounting?
By Analytix Editorial Team
September 21, 2020
0 Comments

As a business owner, what is the one thing you would credit with kick-starting your business? In our journey, we have realized that most business founders bring with them the passion to excel – be it accounting and financial planning for their clients, creating and marketing a product, or providing services. Performing all of the
Read More...
Robotic Process Automation: 5 Huge Benefits for Businesses & CPA Practices
By Analytix Editorial Team
September 15, 2020
0 Comments

Have you ever wondered how Robotic Process Automation (RPA) can future-proof your business and help you grow without bearing any linear costs like recruiting more people? RPA is redefining the accounting and finance profession in 2020. According to Gartner, RPA software is the fastest-growing segment of the global enterprise software market. Yet another report by
Read More...
Benefits of Partnering with a Minority Business Enterprise (MBE)
By Analytix Editorial Team
September 8, 2020
0 Comments

Managing a growing startup or practice is a challenging endeavor. Competing in the marketplace, offering new services, and gaining more clients are all part of the process. Partnering with a certified-MBE allows you to tap into a large number of public and private sector programs.  The increased access to government contracting opportunities that a partnership
Read More...
Here's How Professional CPA Services Can Help Build a Successful Business
By Analytix Editorial Team
September 3, 2020
0 Comments
According to an Investopedia article quoting the U.S. Bureau of Labor Statistics, approximately 20% of new businesses fail in the first two years and only 25% new businesses survive for 15 years or more. This is also supported by a 2018 report from the Small Business Administration (SBA) Office of Advocacy, which states that roughly
Read More...
Benefits of Outsourced CFO Services to Small Businesses
By Analytix Editorial Team

Most small business owners stay focused primarily on sales, leaving their financial position to chance. According to the Small Business Report, 60% of small-business owners feel they are not very knowledgeable about accounting and finance. Further, owners who do have accounting skills are mostly stretched too thin addressing other areas of the business. Hiring an
Read More...
CPA FAQS – How To Manage Heavy Workload Without Affecting Quality
By Analytix Editorial Team

It's crunch time! As you start another busy tax season, do you and your CPA partner feel the squeeze of heavy workload? If so, you aren't alone. Accountants have to deal with long weeks, longer working hours, and the pressure of deadlines during the tax season. According to the 2019 Post-Tax Season Firm Survey of
Read More...
Choosing an Outsourced Accounting Firm
By Analytix Editorial Team

Deciding to outsource your accounting and bookkeeping functions is a huge step in allowing you more time to focus on growing your business. But making that decision is only half of the equation. Equally important is selecting the right outsourcing accounting partner who aligns with the needs of your business. While there is no magic
Read More...
5 Common Small Business Accounting Mistakes
By Analytix Editorial Team

The COVID-19 outbreak has derailed small businesses, and so many are facing unprecedented challenges. According to a Facebook Survey of 86,000 business owners, one-third of U.S. small businesses have stopped operating, while another 11% expect to fail in the next three months if COVID-19 conditions persist. Many small business owners have applied for assistance under
Read More...
Five Bookkeeping Issues Solved by Not Doing It Yourself
By Analytix Editorial Team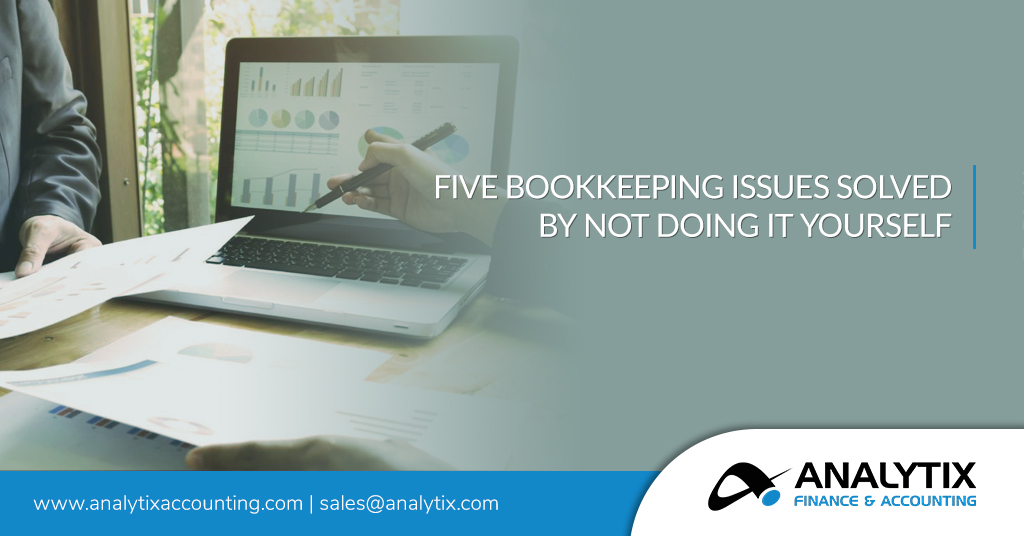 Many small business owners find bookkeeping time-consuming and intimidating. In fact, many bootstrapped startups prefer to cut costs using shortcuts like do-it-yourself accounting. DIY Bookkeeping Downsides According to a Clutch survey of 302 small businesses , almost half of small businesses (45%) employ neither an accountant nor a bookkeeper.  Over time, as the company grows,
Read More...
How CPAs and Accounting Firms Can Tackle the Coronavirus Crisis
By Analytix Editorial Team
March 27, 2020
1 Comments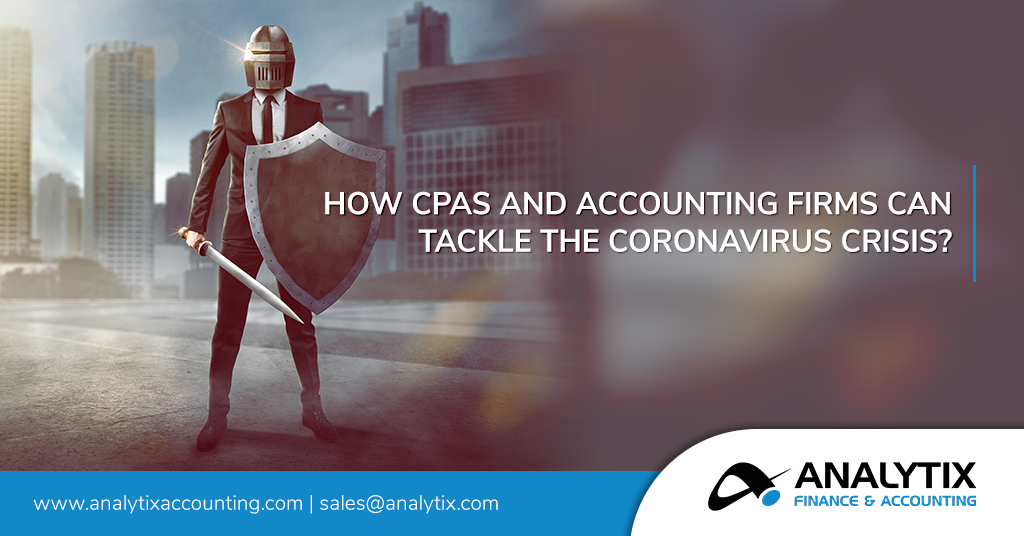 As the crisis around the new coronavirus (COVID-19) continues to expand, it has brought the US economy to a grinding halt. While natural disasters and cybersecurity have pushed most CPAs and accounting firms to develop a business continuity plan, few had expected the huge impact of such an unprecedented massive outbreak. It is now important
Read More...