Small business sustainability and growth prospects are dependent on liquidity available and overall financial health of the business. A report by JP Morgan Chase & Co. revealed how 50% of small businesses they researched were operating with a cash buffer of less than 15 days. Only 40% of the firms they researched had more than three weeks of cash buffer.
As they enter post-pandemic recovery, small businesses are exploring what helps them move towards sustainability. According to a report by McKinsey, there are five qualities that will be critical for business leaders to find their way to the next normal. These are: resolve, resilience, return, reimagination, and reform. Among the first strategic areas for businesses to focus on is recovering revenue, the report says. Revenue, especially cash, is the single most required element for the business growth of startups and small businesses. Everything else, including rebuilding operations and realigning goals follows financial sustainability. If capital and resources were once scarce for a small business, COVID-19 only made availability worse with furloughs and economic instability.
Aggressively growing revenue
Small businesses, attempting to recover, must make revenue growth a priority. This may require abandoning pre-COVID-19 business operations and adopting new methodologies. Small businesses may need to acquire a startup mindset and proactively pursue new business. It is worth noting that client needs have changed as they themselves deal with the pandemic in an unprecedented landscape. Newer courses of revenue building may need to be reviewed. Small recovering businesses need to evaluate changed requirements and meet them while ensuring their own business remains sustainable. This could mean offering service extensions to clients, or helping them analyze their needs and explore ways to meet them. It could also involve identifying areas in which small businesses can extend new and necessary services without impacting their own budget and resource restrictions.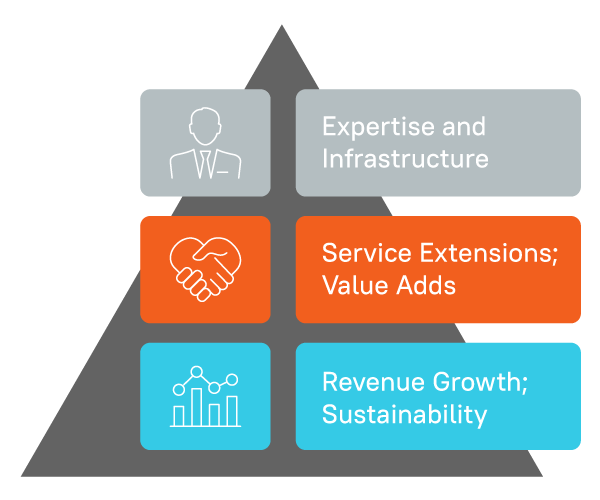 Rebuilding; redrafting operations
The pandemic has served to reinforce the importance of change and adaptability. Businesses that embrace new ways of transacting and operating stand a better chance of surviving and thriving in the future. Outsourcing can be adopted selectively, beginning with accounting and bookkeeping. Efficient cash flow management is central to financial independence.
Outsourcing this critical function to professionals can help businesses streamline their operations without stretching their already thin budget.
Outsourcing accounting and bookkeeping leaves founders and operators free to pursue critical new business opportunities for revenue building.
Outsourcing by professional accounting businesses, such as a CPA firm looking to grow in revenue and size, can ensure internal accounting is addressed, financial health is not negatively impacted, and the business consistently has access to infrastructure and expertise to take on greater workloads and new client requirements.
Embracing a sustainable future
Professional assistance, in the form of partnerships, can help businesses tap into proven expertise and reliable infrastructure without immediate capital investments. An outsourcing partner can meet changed client needs without affecting business continuity; this helps clients get what they need with your business playing a key role in continuing to provide it.
Partnerships assist small businesses in growth; partners can help provide timely deliverables even without adequate in-house resources. Partners can take on the responsibility of workloads, while owners and operators explore new service and product lines to align with modified customer needs and requirements.
Next steps:
Learn more about how CPA partnerships and outsourced accounting and bookkeeping services can guide a business to sustainability and higher growth.
Email us at sales@analytix.com or call us on 781.503.9002 today.
Follow our blog for industry trends and the latest updates.