In March, even those of non- Irish descent tend to hope for a little St. Patrick's Day luck. After all, who wouldn't want to find that proverbial "pot of gold" at the end of the rainbow? For small to mid-sized businesses, even minor fluctuations in cash flow can have a larger scale impact. That "pot of gold" is easier to come by if you are closely monitoring your operating reports and have a clear understanding of the levers and indicators that impact profitability and cash flow generation. Disciplined analysis of your operating reports will help you determine how well your company accomplishes these things, an important practice for small to mid-sized businesses.
1. Revenue and Sales – Perhaps the most obvious driver of increased profitability is increased revenue or sales. However, almost as important as producing the revenue is monitoring your company's revenue generating trend. Small to mid-sized businesses should have a solid understanding of their daily sales and annual sales-to-date to ensure they are on target with revenue projections and goals. By not paying attention to these indicators, small to mid-sized businesses run the risk of falling short of their goals and finding themselves strapped for cash.
2. Operating Income and EBITDA – Operating income is the profit generated by a company after all operating expenses have been deducted from total revenue. Operating income is an essential metric, as it is a clear indicator of how well a business may be managing expenses as a function of revenue. Another indicator to monitor, which is similar to operating income, is EBITDA (Earnings Before Interest, Taxes, Depreciation and Amortization). EBITDA is a better measure of cash flow because it accounts for non-cash expenses, such as depreciation and amortization, which may be included on an operating report even though the cash outlay may have occurred several years prior.
3. Cash Flow – Cash flow is the amount of cash available for use by your business at various points in time. It is the manner in which cash flows in and out of your company. As a small to mid-sized business owner, you should have a solid understanding of at what point cash is flowing into your business (via revenue and receivables), as well as how much and at what point cash is flowing out of your business in the form of monthly and annual expenses. Monitoring and maintaining healthy cash flow makes the difference between launching a business and staying in business.
4. Comparables – Monitoring all of the above indicators is critical to small and mid-sized companies. However, just as important to monitoring these items is comparing them to prior periods as a gauge to determine if your company is headed in the right direction. As a basis point, companies should evaluate these metrics as they compare to the week prior, month prior, and same quarter/ year prior. Are fluctuations in any of this data due to seasonal or economic changes, or are they isolated to your business? Analyze these figures as percentages as opposed to dollars to provide you with a better comparable.
5. Fixed vs. Variable Costs – Small and mid-sized businesses must also carefully consider both their fixed and variable costs. Fixed costs are predictable, set costs per item during a time period. Variable costs are costs that could increase as a result of increased business-cost of goods, increase in volume of materials, etc. If revenue levels remain consistent but variable costs are increasing, profit margins will erode. Although it that appears obvious, this is why business owners must closely monitor these indicators.
As a small business owner, having a clear understanding of each of these categories can help you self-generate your own "pot of gold". We are currently offering a free analysis of your business processes and accounting system. If you would like to learn more on how Analytix Solutions can help you gain a better understanding of how these things can help move your business forward, please call me directly at 781.503.9002 or email me at sales@analytix.com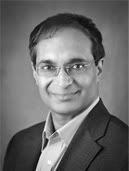 Satish Patel, CPA
President, Analytix Solutions
Satish Patel, Founder-CEO of Analytix Solutions, has more than two decades of experience as a CPA. He has also advised small and mid-sized businesses on diverse matters such as valuation, accounting, and finance. His experience extends to raising capital and arranging for finance from angel investors.