Having a war chest can give you a competitive edge, however, fundraising is hard and brutal. Around 80% of small businesses fail, most commonly due to the lack of capital funding. Besides, the financial inexperience of startup owners often results in various loans being declined.
The following startup checklist prepares you with all the information necessary for raising capital successfully.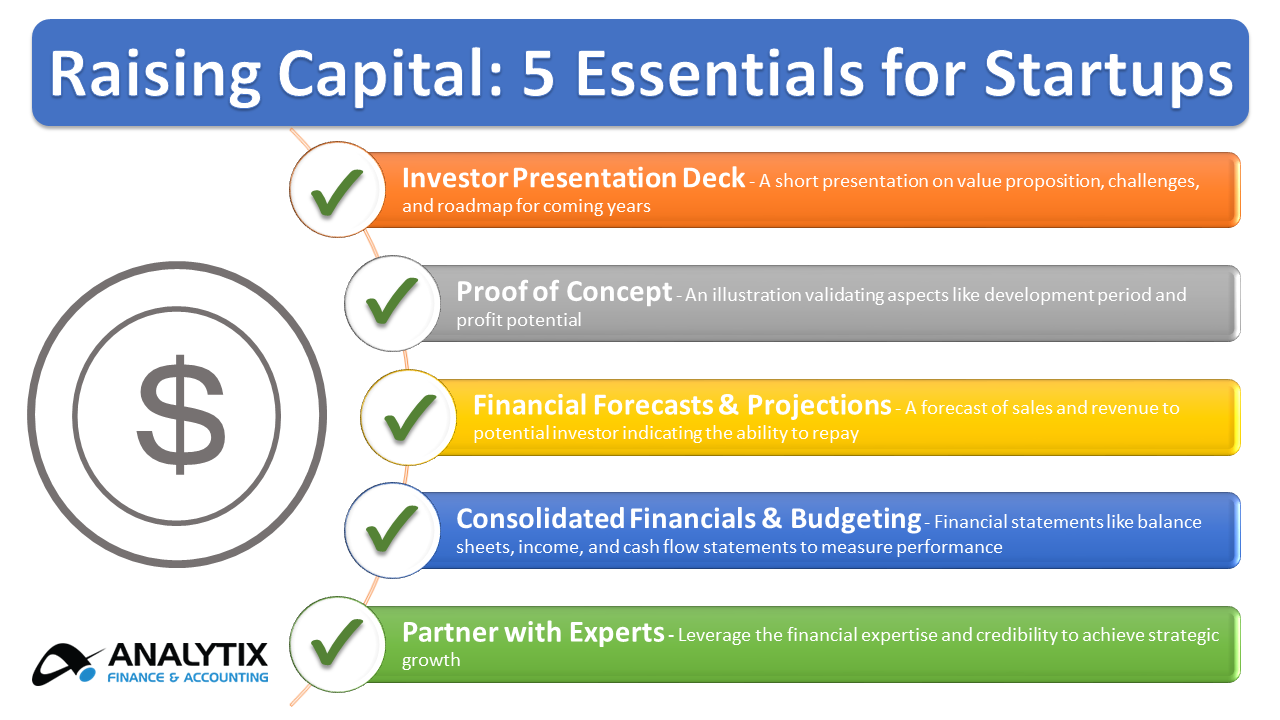 Include an Investor Presentation Deck
Having an impressive pitch deck is a great way to pique an investor's interest. Typically, it should be a short, powerful presentation that includes the purpose, shows a value proposition, covers the problem, provides a solution, presents a roadmap for the next 5 years as well as shows investors solid returns on their investments.
Prepare Proof of Concept
The next absolute must-have on the fundraising list is a Proof of Concept (PoC) that validates and illustrates the profit potential. Most investors are conservative by nature and want to see evidence of a company's gradual growth and increase in market share. The PoC must be framed to include key aspects like the development period and how the project will be funded and managed in the long run.
Show Financial Forecasts and Projections
Financial projections are simply forecasting sales and revenue to the potential investor or lender. They are a key indicator of an owner's ability to repay as well as a way to convince investors that the startup will continue to be profitable. Therefore, startup owners require:
Detailed historical financials of last 2-3 years
Detailed quarterly financial projections for the next 3-5 years
A month-by-month breakdown of the first year
Complete Consolidated Company Financials and Budgeting
Financial performance of any business is measured by the interrelationship of these six essential elements: assets, liabilities, equity, income, expenses, and profits. The success of a business depends heavily on how well these elements are planned, controlled, and executed. These elements also compose the three primary financial statements – balance sheet, income, and cash flow statements.
Partner With Experts
Having an experienced part-time CFO with financial expertise ensures that you get the best possible terms. A CFO with industry-specific experience can prove to be crucial in preparing or translating a compelling presentation. They can help navigate the path to achieve strategic growth by leveraging their experience and credibility. This allows you to avoid common pitfalls as well as accelerate a startup's success rate and speed. Hiring a part-time CFO gives you access to flexibility, affordability, and strategic advice.
Raising capital is just a means to an end, and your primary goal must be to deal with it effectively by hiring a full or part-time CFO. At Analytix, we help startups with quality financial forecasting, accurate documentation, and more. Moreover, our CFO services help clients reduce costs by up to 80%.
Next Steps