The pandemic has led people to look at virtual and remote options for activities including business, education, training, shopping and other everyday events. Startups are looking for virtual resources to enhance learning, to share their expertise with a larger audience, and to target business leads. Virtual accounting events save time and are cost effective in achieving business growth.
According to MarketWatch, a financial and business information website, the global market size for virtual meeting software is projected to reach over $41 billion by the end of 2027. This projection is a consequence of the increased adoption of remote work requirements implemented globally, and an indication of how technology has changed the way we work, live, and learn. With online transactions and online communication driving business operations globally, networking and engagement events have also moved to the virtual space. Networking events are helpful for several reasons, including:
They support a particular campaign and expand audience reach.
A wider audience can generate greater demand.
Increased demand creates new business leads.
A report by Forrester highlights that while technology cannot replicate an in-person experience, firms like Adobe are adopting digital delivery for all types of events, conferences, and summits.
Attending events and conferences helps startups and small businesses stay up-to-date with the latest trends in the industry and also assists in generating strong business leads. Industry-specific accounting and bookkeeping events can provide critical insights into the financial stability for your business.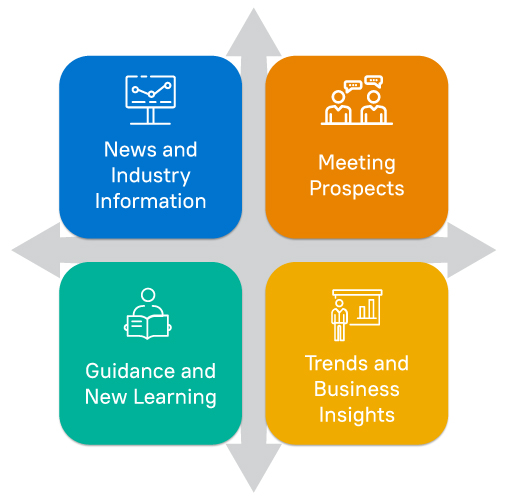 Did your business suffer a financial setback during the COVID-19 pandemic? How can you recover? Are there software solutions that can help? Do services exist that can guide you to financial stability? Virtual events are a great resource to introduce viable solutions to business owners seeking support.
Virtual events are an effective way for startups and small businesses to access expert support, current trends, and industry-specific news.
Focusing on the critical: Accessing critical new learning
Virtual events can be very helpful, but outlining your expectations beforehand can save time and guide you to events that are right for your business. Accounting events offer focused content, such as automation, software, technology and streamlining operations to ensure business continuity. These events allow participants to network, share experiences, offer inspiration, and make informed decisions. The expertise and knowledge base provide thorough reviews of innovative solutions, how to source them, and best practice implementation efforts.
Investing in learning: Time and cost savings
As a bookkeeping or CPA startup, your workload is cyclical and high demand may keep you from attending events in person. Virtual events offer convenience and experience, without the time commitment and costs associated with in-person events.
With the current landscape continuously evolving, prudent planning will help to sustain and grow your business. Virtual educational events are available to guide your business to financial recovery, stability, and future scalability.
Next Steps: