According to a U.S. Bank study, a whopping 82% of businesses that failed cited cash flow problems as a factor in their failure. As for new businesses, 50% closed shop during year one, in part, because they didn't understand basic bookkeeping. In fact, majority of business owners are inexperienced in bookkeeping, but many choose to do their own books anyway.
Here's five reasons why DIY bookkeeping may not be right for your business:
Inaccurate Bookkeeping
Being a small business owner requires you to wear many hats, the responsibilities can often cause you to procrastinate financial matters, which are often eventually pushed to the side and forgotten. As stacks of paperwork, receipts, invoices pile up, it results in irregularities like not updating books regularly, late filing of invoices, mistakes in payroll, or having receipts with no correct supporting information.
Moreover, inaccurate bookkeeping or even the smallest clerical error can often result in miscalculating profits. This situation can snowball over time and cause loss of profits as unpaid invoices are left unnoticed, straining vendor relationships and making tax seasons, a big fuss! These irregularities raise red flags with the IRS – leaving you vulnerable to audits and penalties. Inaccurate bookkeeping fails to give you a firm grasp of your business's financial status, leading to poor business decisions that significantly hamper growth.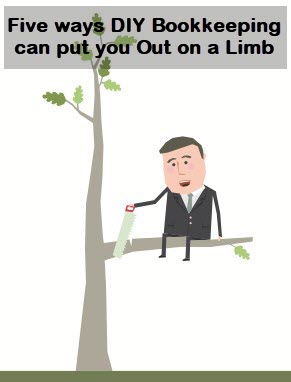 Lack of Expertise
Accounting is tedious, time-consuming, and requires a certain level of expertise to be done correctly. Most likely, you are not QuickBooks certified ProAdvisor or a bookkeeping expert. Even though you took accounting in college, it's probably been a while, and without a full understanding of the latest tax updates, you may end up making costly errors. You may trust accounting technology platforms to be sufficient, but that too requires a steep learning curve for you to properly use it.
Last-Minute Tasks & Missing deadlines
Small business owners have to tackle a myriad of tasks and most likely see bookkeeping as a chore. This may result in missing deadlines or late filing of taxes. Since excel spreadsheets or pen and paper are preferred route to maintain records, there is usually poor organization and recordkeeping of invoices and receipts, which if don't add up prevent you from being able to claim expenses. Without accurate records, misplaced invoices, it takes longer to organize and send invoices, thus increasing your invoicing cycle.
Lack of Time
Most small business owners take up DIY bookkeeping because they believe that this is the most cost-effective. However, time is money for small business owners as they need all the time they can get. You really shouldn't be wasting your time on bookkeeping. You should be focused on what you are good at in your business and growing it.
Cost you more in the long run
Most small business owners have a common misconception that they can save money by doing bookkeeping on their own. The reality is that DIY Bookkeeping, in the long run, ends up being more costly and leaves you open to tax issues, hefty penalties, and cash flow problems. Without accurate, up-to-date accounting records, DIY bookkeeping will seriously limit your financing options and impede your growth.
So what do you do?
Choosing an outsourced bookkeeping service provider gives you instant access to a pool of certified accountants, experienced in all aspects of small business bookkeeping. We are just a call away to help you achieve financial success and long-term growth.
Next Steps