Staying updated with industry trends is crucial for growing a business and providing exceptional services to clients. Understanding market demands and needs can improve your products and services and retain existing customers.
To stay informed about evolving trends in the accounting industry, you should invest some time in research and development. The latest technology and social media platforms have become easier to track updates and news. You can easily follow accounting experts and even financial news on social media. You can even save your interests in your browser to automate the flow of information.
Nevertheless, this information is secondary. To get your hands on the latest news and technology and gain deep insights, suggestions, and advice into the future of accounting, you should attend prominent accounting conferences. These events will help you meet industry experts, business developers, innovators, business owners, and vendors. Attending different conventions allows you to connect and choose strategic partners to develop your business.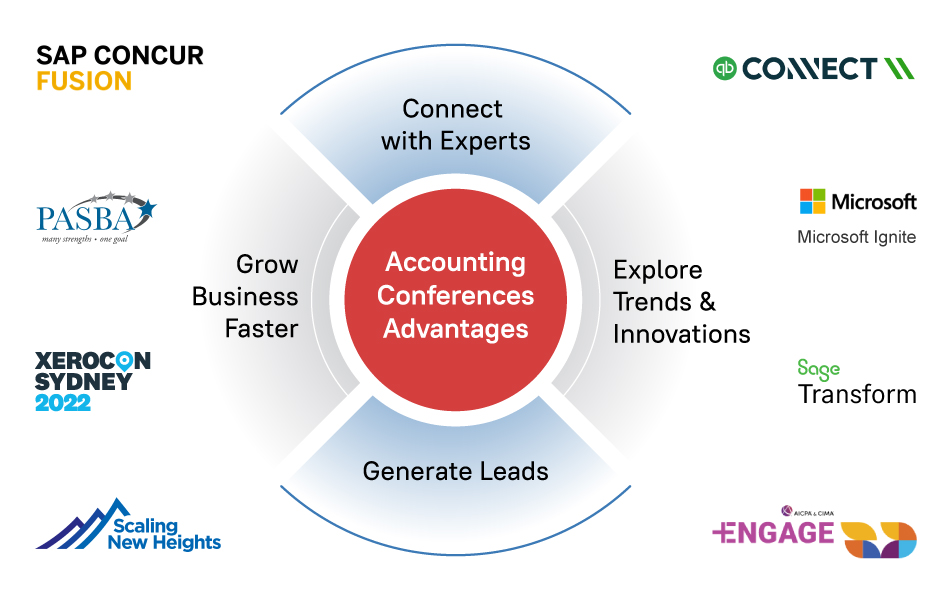 Benefits of Attending Conferences and Events
Connect with industry professionals
Explore new opportunities within the accounting Industry
Find advisory partners
Understand a new line of products and services that can grow your business
Get access to the latest innovation faster to boost productivity
Know your competition and understand their business strategies
Generate multiple potential leads and enjoy marketing advantages
These trade shows are a great place to rediscover the accounting industry and accounting technology and meet 1000+ finance experts under one roof. You will have a chance to understand the current market problems affecting various industries and businesses. These conferences allow visitors to increase their knowledge and connect with professionals significantly impacting the accounting industry. Anyone associated with business, finance, and accounting can attend these events to gain valuable insights into building a successful business in 2022.
1. AICPA Engage: This event focuses on helping participants understand the importance and impact of technology. It also allows executives to make better decisions in the tech-savvy world.
2. QuickBooks Connect: QuickBooks Connect is an excellent place to explore new accounting products and services and gain insights into the latest innovation in accounting and bookkeeping.
3. Sage Transform 2022: Explore new product features and meet the community behind Sage products and services. This will allow you to understand how technology is transforming the new world for the finance industry.
Meet Industry Experts
Education Opportunities
Launch of New updates
Location – Orlando, Florida | October 10-14, 2022
4. Scaling New Heights: Connect with accounting professionals and advisors to improve your financial strategies and reduce taxable income. You should attend this event if you are a small business owner.
Help your business face complex challenges
Connect with outsourcing companies
Explore new accounting products and solutions
Location – Orlando, FL | June 19-20, 2022
5. SAP Concur Fusion: Learn how to transform your business in 2022 and reinvent financial strategies.
Improve your business operation through the latest accounting software
Gain expert opinions on business finance
Meet global business leaders
Location: Orlando, FL
Website: https://fusion.concur.com/
6. PASBA Conference: Visit the event to collaborate with accounting professionals and other businesses around the USA. PASBA conferences and events allow you to promote your business.
Fantastic place to share information with, learn from, and teach accounting professionals
Collaborate with businesses and vendors
Location: Scottsdale, AZ
Website – https://www.pasba.org/events/
7.  Xerocon: This is an unmissable event that allows you to learn more about cloud accounting and how it shapes new markets.
Connect with professionals
Discover upcoming trends
Implement new accounting strategies
Cloud Accounting
Location: Sydney | June
8.  Microsoft Ignite:
Connect, share, and learn about advanced accounting practices and how technology reshapes the industry.
Accounting and cybersecurity
Accounting software and automation
Location: Virtual Event
Bottom Line
Connect with innovators and industry professionals and generate new leads. Attending conferences will allow you to optimize the latest accounting trends, including IT products and solutions that can improve your business performance. These events help business owners like you make better decisions and deals with vendors and partners.
Get in touch with our business developers and understand present market scenarios. We attend accounting conferences to offer comprehensive, customized services that meet client needs.
We are a leading outsourcing company providing exceptional services like staffing and HR management, business management, tax advisory, accounting and bookkeeping, part-time CFO services, and IT products and solutions that can automate your business operations.
Next Steps
Explore our strategic solutions that can allow you to focus on exploring new opportunities in the market and at conferences.
Please email us at sales@analytix.com or call us at 781.503.9002 today.
Read our blog for industry trends and the latest updates.