In today's increasingly global and fast moving economic environment, successful companies recognize that finance and IT departments have grown increasingly complementary. One of the greatest advantages of working with small to mid-sized businesses is their ability to move quickly and efficiently to deliver services and address client issues. Synergies between CFO services and IT foster this type of business agility, and businesses which embrace these synergies discover they can demonstrate a competitive advantage to their clients and customers. As a starting point, following are four key areas to assess for integration between CFO and IT services.
Software roll-outs – This may appear obvious, but what is not always obvious is at what point the two areas should begin collaborating. Answer: as soon as possible. Software rollouts are most successful when finance and IT begin working together at the beginning of the process. A CFO can provide insight into financial reporting and management needs, as well as expectations of an accounting system or software program. Early involvement of IT services allows them to anticipate long term implications of the system and address what is technically capable. IT can ensure that the systems selected are flexible and scalable enough to meet future growth.
Greater access to data sharing – One of the benefits of updated accounting software and systems is their ability to provide access to key data for reporting needs. Newer systems allow authorized partners or employees access to key data by logging into the system themselves and generating automated reports. Previously, providing these partners or coworkers with critical reporting or real-time data required a CFO or Controller to compile and generate requested reports, often manually. When a CFO and IT services work collaboratively to identify areas appropriate for real-time data sharing, productivity increases as the data sharing is performed more efficiently.
Data security – With many finance departments now subscribing to financial SAAS programs and leveraging cloud based systems, ensuring data security within a business is critical. In addition, many companies have evolved into businesses with a high volume of web based transactions- purchases, inventory management, fund transfers, bank statement reconciliations, etc. The increasing volume of web based and remote financial related transactions necessitates unprecedented levels of data security. Delivering this level of data security requires the commitment of both the CFO and IT services.
Cost controls – One of the most significant ways a small to mid-sized business can increase profitability is to control costs. Working together, finance and IT can identify thresholds and establish automated triggers to notify CFOs when costs are surpassing this threshold. Success depends on the data being accurate, while also readily and immediately accessible. Even more importantly, IT involvement to automate these types of functions and reports means that a CFOs role can evolve from simply reporting to analysis, resulting in more robust financial management for small to midsized businesses.
These are just a few areas in which IT and CFO services can complement each other to make your financial operations more effective. Other areas to consider integrating the two are any place where analysis and decision making can be enhanced or where efficiencies and cost reductions are achieved. We are currently offering a free analysis of your business processes and accounting system. If you would like to learn more on how Analytix Solutions can help move your business forward, please call me directly at 781.503.9002 or email me at sales@analytix.com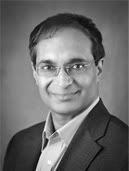 Satish Patel, CPA
President, Analytix Solutions
Satish Patel, Founder-CEO of Analytix Solutions, has more than two decades of experience as a CPA. He has also advised small and mid-sized businesses on diverse matters such as valuation, accounting, and finance. His experience extends to raising capital and arranging for finance from angel investors.