Accounting errors are common in every business. They cause enormous problems when balancing books and filing taxes. This could jeopardize your entire business operations as well as cause loss in the financial year. These problems typically arise because of a lack of financial management.
Some great ways to solve accounting errors are adding journal entries, creating subsidiary entries, and including entry reversal. However, some errors are specific to your accounts and books. We want to share thoughts on how financial management can lead your business to profitability and help you to maintain error free accounts and books.
Financial Management
From business analysis to budget forecasting, proper understanding of finances gives you the ability to make better business decisions. It helps in recognizing the growth of the business and how to control expenses.
Proper financial strategies can aid in executing business goals and help in avoiding market risk. If you are looking for a better solution for your financial planning, a strategic partnership may be the right solution for you.
A Strategic Partnership for Your Business Financial Management
Sharing financial data with third-party businesses can put information at risk. In addition, it can lead to loss of business privileges. A strategic partnership can help scale your business and enhance productivity while also ensuring privacy and maintaining quality of work.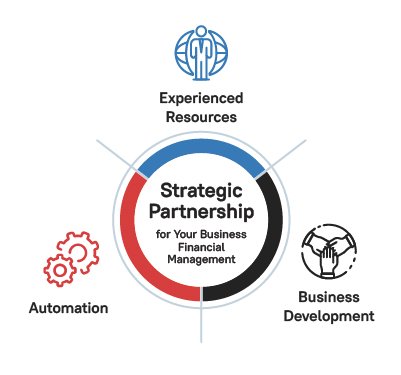 Benefits of a Strategic Partnership
On-Demand Resources – You don't have to wait for the employee onboarding process to get started on required tasks. Strategic partners have access to a larger number of resources that can work on an hourly and project-basis or as a full-time employee. You can hire experienced accountants, bookkeepers, and financial expertise on demand without having to provide benefits or training.
Technology Advancement – Add the latest technology to your existing business to improve the work process and automate regular activities. The latest accounting software can help you to track and record financial information. An outsourcing partner can streamline your entire business operations so you can focus on core competencies.
Reporting System – A dedicated team is always working for you to improve business. They will make sure to update your team regarding all business opportunities and new strategies. They will ensure that all transactions are recorded in the right accounts to have error-free books. A Business Partner Program ensures that financial records are clean and up to date so that your taxes are properly filed.
Business Development – Full support from a dedicated team improves your business profit. They will help with all back-office tasks as well as in business development. Proper analysis allows for a detailed understanding of your business so that your strategic partner can focus on the day-to-day tasks, allowing you to focus on other aspects of your business.
Strategic Planning – Acquire insight related to your business and create new business strategies with ease. Financial management helps you to see missed opportunities as well as areas for improvement. From fund allocation to risk management, a strategic partnership helps you to grow faster in the market.
Choosing a strategic partner for the financial management of your business is difficult. There are many outsourcing solution providers in the market. There are very few that can meet all your needs under one roof.
To identify a successful strategic partner, you should cross-check the following items.
Objectives and strength
Strategic partnership agreements and NDA
Years of experience in the industry
Quality check process
Integration and implementation of systems
Communication tools
Qualified list of services and solutions
Client success ratio
Scope of the relationship
First Steps towards a Strategic Partnership
Define roles and responsibilities as clearly as you can for a lasting partnership.
Ask for client testimonials and referrals.
Collaborate with a company that provides solutions for multiple verticals for a one-stop solution.
Strong financial management is how to grow business faster and develop new business strategies. It is important to collaborate with a reputable outsourcing company that can offer confidence and quality work. Moreover, the strategic partnership helps in business profitability.
Next Steps
Learn how strategic partnership can improve the financial management of your business.
Email us at sales@analytix.com or call us on 781.503.9002 today.
Follow our blog for industry trends and the latest updates.