A Gartner report mentions that nearly 55% of large enterprises are expected to successfully implement an "all-in" cloud SaaS strategy by 2025. Small businesses are most likely to use these SaaS services to facilitate their business and strategies as well. This calls for an increased need for white label partnerships.
A white label partnership is an arrangement that allows you to sell a product or service created by your partner under your own brand name. White label partnerships can prove beneficial to a CPA practice. With businesses working towards a steady comeback from the downward spiral of the economy caused by COVID-19, white label partnerships can help kick-start the process.
Here are some benefits that can help small businesses hit the ground running in the current challenging landscape.
1. Ensure business continuity
White labeling allows businesses the flexibility to continue providing their products and services in the same branded fashion with the same business credentials as before. The customer interface remains the same, and in doing so, ensures customer trust in the quality of your brand stays strong.
As businesses struggle with decreased staff due to COVID-19-induced furlough, white labeling can help an emerging business circumvent the hassles of establishing a physical workplace, complete with staff and infrastructure. This saves on capital investments without compromising deliverables and business continuity.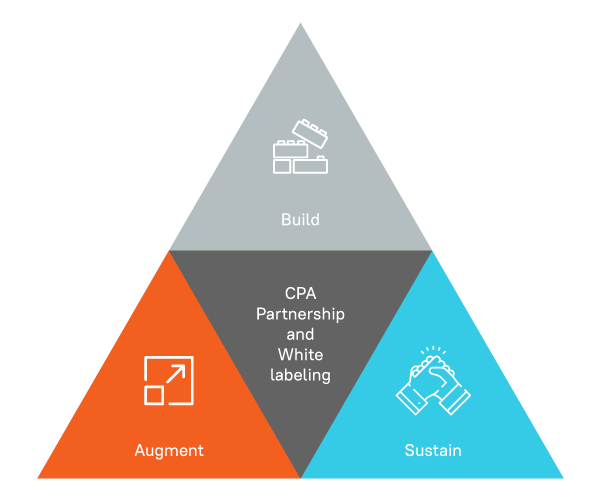 2. Provide value to customers and extend services
White labeling can enable businesses to extend their service offerings and add value to client deliverables. With the instability introduced by the pandemic, it might be essential for certain businesses to undergo a complete change in direction. The economic downturn also dictates that no new expenses can be afforded by businesses until they reach a level of sustainability.
White labeling can empower a business to extend new service offerings to clients, without investing heavily in traditional requirements. With white labeling, there is no need to understand new territory, overcome knowledge gaps, and acquire source expertise, necessary tools and infrastructure, among other things. With white labeling, businesses can harness the capabilities of their partners to ensure reliable and high-caliber work.
3. Explore potential or new revenue streams
If a business is established, but needs to revamp certain operations or emerge with entirely new offerings, white labeling can help provide the much-needed momentum, without any loss of hard-earned goodwill. Businesses can augment their existing resources to ensure their current businesses and revenue streams remain untouched. This allows them to explore potential revenue streams without the fear of losing all that exists and sustains the business.
CPA partnership opportunity: rebuilding in crisis time
CPA partnerships can offer dual benefits to CPA practices in times of crisis: 1) a plug-and-play environment to execute service offerings, and 2) the opportunity to tap into a network of contacts that may become paying customers, adding to the business sustainability and future growth. White labeling can serve as an extension to the crisis-management tools of a small business fighting for sustainability in the face of the current pandemic.
Choosing the right partner for successful white labeling solutions is imperative. Doing so can help lay the foundation not just for sustainability, but also for future growth prospects.
Next Steps
Learn more about how professional CPA services can help streamline operations, improve cash flow management, and build resilience. https://www.analytixaccounting.com/
Email us at sales@analytix.com or call us on 781-503-9002 today.
Follow our blog for industry trends and the latest updates.