Today's technology makes it easier and more efficient to automate day-to-day tasks, however even with this efficiency, human expertise is necessary to make sure everything is in order. No matter how fast technology develops, companies require professional support in each department to maintain progress. This is especially true in the field of finance, accounting, IT, healthcare, hospitality, and other industries.
Industry specifics require financial experts to ensure your business remains successful. The financial manager helps with planning, forecasting, controlling expenditures, budgeting, and analyzing overall business health. With advanced financial management, there are better options for developing business, enhancing profits, controlling cash flow, budgeting, strategizing, and decision-making.
Proper understanding of a company's finances can improve decisions and help in choosing better options for growing a business. To recognize your business, you need professional financial managers. They can analyze your business and provide insights to missed opportunities.
Key factors of financial management
Cash Flow – Keep track of the money in your account and understand how funds are being utilized to grow the business. This helps you understand business performance, expenses, P&L, and business growth in the short and long term.
Budgeting – Plan all your expenses so you can utilize extra funds for growing your business. Budgeting helps you to allocate funds for salaries, rent, mortgages, raw materials, and other expenses. It gives you more control over finances and spending. In addition, budgeting allows time to plan and allocate funds for various events and departments.
Planning and Forecasting – Business analysis provides insights that can help you to understand new business opportunities and make new goals with strategies.
Better financial management helps in minimizing market credit risk. It also gives you time to prepare your business for market demands. This is important because many businesses lack financial expertise and technology advancement, especially in start-ups.
Start-ups have many responsibilities, including managing clients, employees, business growth cycle, and timely payouts. It is difficult for executives to manage all the responsibilities successfully. According to our experts, outsourcing accounting services and implementing the latest technology into business can allow you to focus on core competency along with proper finance management. It could help in growing your business faster.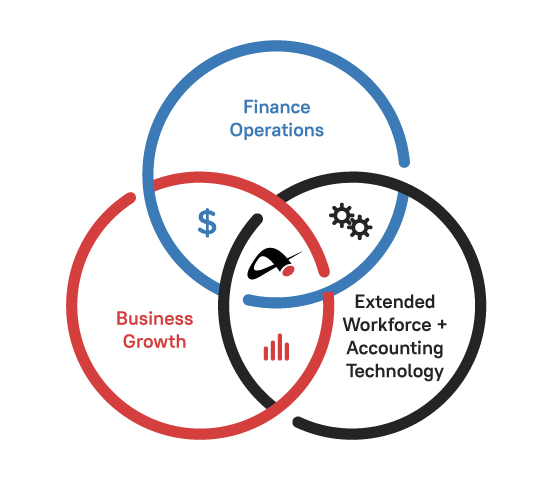 Finance Operations Are Better Handled by Experts
The accounting and finance industry has evolved too much around technology. Almost all back-office tasks have been moved to cloud technology and the latest accounting software. This makes it easier for high-level executives to manage accounts and books efficiently from a single dashboard. In addition, technology ensures books are clean and error-free.  Other advantages include auto payments, timely reporting, timely reminders, business analysis, and insights.
Accounting software allows you to consolidate financial information and improve the process of accounting and bookkeeping. It helps your accountants and financial experts to make better business decisions. If you require professional accountants, bookkeepers, and CFO services, and other financial solutions, then outsourcing financial accounting services is the solution for your business. Outsourcing and strategic partnerships can even help start-ups gain access to well-experienced experts at a fraction of the cost that it would take to hire this seniority. Outsourcing partners have access to the latest technology, talent pool, and on-demand solutions.
Do you want your business to perform efficiently and get ahead of the competition? Ensure your business is run on the latest technology and expand your workforce to allow your experts to focus on core competency. If you are interested in outsourcing accounting services and financial operations, consider the following steps.
Next Steps