Inefficient bookkeeping and accounting practices, along with poorly managed debt, can lead to cash depletion and poor financial health for a business. Prudent goal setting, based on a realistic assessment of business performance, operations, and growth targets can help build cash reserves and financial resilience.
Financial resilience and health have always been a top priority for small businesses. In the past year, the lack of strong financials have led to widespread closures of small to mid-sized businesses. This could lead to permanent closure due to the inability of owners to pay ongoing expenses. A Harvard Business Review study confirms that the primary reason for permanent business closures is attributed to being cash strapped, with a vast majority of companies having less than two months of cash on hand.
Identifying goals accurately
Smart financial planning, supported by accurate reporting, can help small businesses maintain better financial health. Identifying weaknesses, including poorly managed cash flow, ill-tracked accounts receivables, and lack of accurate information, can guide the process of correction. Goal setting helps to overcome inefficient processes by first considering business performance in accounting, bookkeeping, and financial management.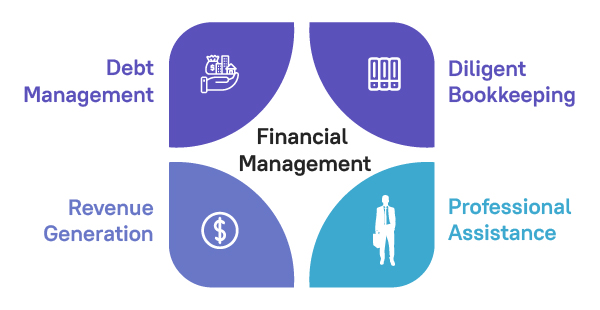 Corrective action can be taken after accurately identifying challenges. For example, if business performance is poor due to lack of on-time collections, increasing sales targets is not the solution. Instead, the process of collections needs to be refined and streamlined. Goals to help guide your business to financial stability differ based on various situations and can include:
Becoming debt-free: Businesses need to review their current debts and calculate interest to get the total amount owed. While paying off debts helps businesses improve their credit scores, there are additional options available for those that cannot afford to do so, offering financial assistance at lower interest rates.
Creating emergency cash reserves: It is vital for small and mid-size businesses to identify sources that can help build cash reserves to use for emergencies. One way to do this is to create a fund that can be tapped into in emergency situations. This fund can result from planned cost-cutting and reduction of expenses by decreasing utility costs, optimizing taxes, and negotiating for better prices. This involves identifying areas where expenses can be reduced, including investments in technology and operations. Improving profit margins is another way businesses can create more available cash, saving on production and overhead.
Improving collections: Most often small businesses are run by multi-tasking owners that are pulled in multiple directions. Usually, back office operational tasks are the first to be neglected. This can lead to a trail of untracked transactions, including money owed to the business, checks that have not been cashed, and pending invoices. Setting a goal to improve collections takes into account streamlining the financial management process. This contributes significantly to the financial health of the business.
Seek the support of a professional outsourcing partner
Financial resilience requires an in-depth analysis of past performance. Along with a historical analysis, an assessment of the current landscape can lead to an understanding of what worked and what did not. Goal setting must be unbiased and rooted in a realistic understanding of the business's capabilities. Being overambitious and setting the bar too high will result in missed targets. Alternatively, setting goals that are too easily achieved may hamper the business's evolution and growth.
Harnessing the expertise of professional outsourcing partners can shift the burden of a business's financial planning. This can free key resources to pursue revenue generating activities. The in-depth industry experience and infrastructure support of a professional partner can guide business owners to create attainable goals by setting dynamic budgets and ensuring healthy bookkeeping and accounting processes.
Next Steps
Learn more about how professional CPA services and customized automation can help businesses streamline business processes and financial management.
Email us at sales@analytix.com or call us on 781.503.9002 today.
Follow our blog for industry trends and the latest updates.