Effective cash flow management is necessary to ensure liquidity for a business, especially during a crisis. Cash flow, which is often confused with profits and income, provides an accurate picture of the financial health of the business.
Businesses need cash to persevere.
According to Business Insider, a financial and business reporting publication, about half of small businesses hold enough cash to stay in business for less than a month. The Harvard Business Review further notes that the median business with monthly expenses in excess of $10,000 only has enough cash to cover two weeks of spending.
This research highlights the need to streamline cash flow management and ensure access to available business funds.
Make recovery or collection a priority
Collecting on outstanding debts is the first step towards streamlining business cash flow. Collection entails several phases, including prompt invoicing, completing projects on time to collect payment, and better inventory management.
Addressing it: Ensuring available cash is critical to smooth cash flow management. Business owners must know how much cash is available, not tied up in pending checks and unpaid invoices. In the face of a pandemic such as COVID-19, it is likely that the financial circumstances for clients and vendors of the business are also impacted negatively. Effective collection needs to be tied to diligent accounting and bookkeeping to ensure future problems do not arise.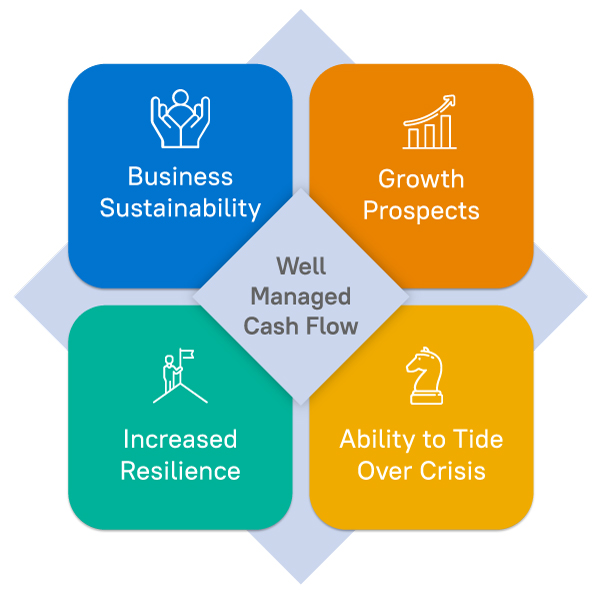 Deploying automation for streamlined cash flow management
Cash flow management begins with registering the transaction and accurately tracking it to payment completion. Paper records and manual registration are error prone for businesses with high volumes of financial transactions. It is common for small business owners to delay recording transactions because they are too busy. They often end up forgetting altogether until it is too late and has slipped into bad debt.
Addressing it: Automation creates efficient collection, diligent recording practices, and tracking. It can be customized as needed. It provides reliable access to invoices, inventory, and completed payments.
Why hire professional assistance?
A professional accounting firm can assist with cash flow management, determine bottlenecks, and provide effective solutions.
The right firm brings strong industry and tactical experience to guide your business and streamline processes for better financial management. Many accounting firms recommend fixed payment deadlines to help businesses plan cash collection and reduce bad debt (money being written off as non-recoverable). Coupled with automation, accounting firm services help businesses streamline communications, determine the amount due, create easy repayment plans, and incent payments. Each process contributes to maximizing revenue.
To navigate the ever-changing business landscape, it is necessary to resolve potential management mistakes that are critical to the success of the business. The guidance provided by an experienced accounting firm, coupled with automation, will ensure your business performs at its best in all situations.
Next Steps