Although small to mid-sized businesses may operate under constricted budgets, this does not imply a decrease in quality of work, regardless of limited infrastructure or manpower. Optimizing existing resources can help you remain within budget parameters, while ensuring that client deliverables and client expectations are met.
Automation can assist small businesses in optimizing existing resources. With automation, companies need not invest in expensive new machinery or hire highly skilled human resources. Identifying key areas to automate can produce significant productivity results. Often times, vendors or partner companies can assist with automating certain functions. An experienced vendor who is familiar with your business may also help you identify areas which could benefit most from automation. As a starting point, following are five suggested business functions worth investigating for automation.
Financial processes: Due their significance within the daily operations of a small to mid-sized business, financial processes can benefit immensely from automation. Timely access to data and data accuracy are equally important in recording financial transactions. Automation improves the quality of both.
Accounting: Accounting functions are the backbone of every business, including start-ups or solo practitioners. Accounting is also an area which requires maximum attention to detail. A minor error that occurs when recording revenues can result in major revenue losses, or worse significant tax implications.
However, for many small business owners, minimizing accounting errors while meeting client requirements often are at odds with each other. Business owners can only perform a finite number of functions and do them well. They can either work diligently to ensure client deliverables are met, thereby often neglecting accounting tasks, or they can pull key resources from business deliverables to focus on the companies financials. However, automating accounting functions can assist in ensuring both objectives are met. In addition, automation reduces dependency on human resources therefore freeing up an employee's time to focus on more client focused work.
Bookkeeping: Bookkeeping is the foundation for accounting. When companies automate bookkeeping functions, business owners can feel confident that record keeping is completed in a timely and accurate manner. Automated bookkeeping assists in creating timely records. For example, regular, periodic transactions can be recorded instantaneously. This eliminates the possibility of omitting particular entries, as well.
IT processes: As a small business, dependence on IT can determine the speed and efficiency with which you service clients. Automating your IT processes can help radically reduce actual time incurred to execute. Besides execution, IT automation can assist in ensuring better record-keeping and adherence to deadlines through a system of automated triggers, email-reminders, etc.
In addition, automated IT processes also help track initiation and the progress of various assignments and projects, as well as promote business continuity.
Training and Communication: Automation can enhance communication needs as well, including training. In the case of small businesses where employees may work remotely or in various geographic locations, business owners can create frameworks which serve as information and training portals, thus cutting reducing time and expenses involved in live training and knowledge transfers.
In summary, for many companies, these five areas are worth investigating as areas which could benefit from automation.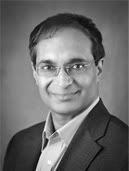 Satish Patel, CPA
President, Analytix Solutions
Satish Patel, Founder-CEO of Analytix Solutions, has more than two decades of experience as a CPA. He has also advised small and mid-sized businesses on diverse matters such as valuation, accounting, and finance. His experience extends to raising capital and arranging for finance from angel investors.