Choosing the right type of bookkeeping system can be the first step towards effective financial management operations. Typically, a business with a monthly expense of over $10,000 has less than two weeks' worth of cash reserved for any crisis or contingencies. Given this statistic, financial management is important for businesses looking at sustainability and long-term growth.
Single entry bookkeeping system maintains financial information of business by relying on a one-sided accounting entry. It is considered a very basic, incomplete, and scientific method to record business transactions. On the other hand, double entry bookkeeping systems include a balance sheet that contains assets and liabilities, and also includes information on equity. Timely and diligent bookkeeping, whether with a single entry or a double entry system, is the foundation for strong financial health for all businesses, including startups and small businesses.
There are advantages to both single entry and double entry bookkeeping systems. The system you choose depends upon:
Your immediate business requirement,
The potential changes in your business as it grows,
Business growth and the ability of the financial systems to keep pace and ensure liquidity at all times.
Assessing business requirement accurately
An accurate assessment of your business needs is primary to enabling solutions that contribute to the financial operations management. Tracking financial transactions accurately and diligently is the first step towards well-managed and streamlined accounting and financial health.
As businesses start to grow, transaction volumes do, too. If transactions are not diligently recorded on time, it is easy to miss a few and eventually lose data and vital information. In single entry bookkeeping systems, transactions can be recorded quickly, without losing much time. However, creating a single record per transaction may lead to missing other information.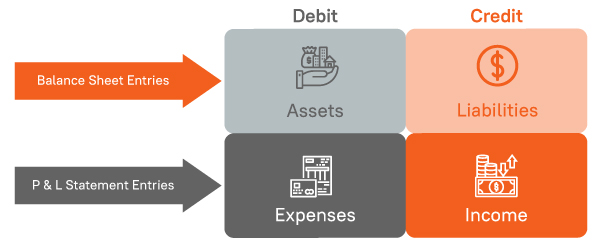 Why choose the double entry system?
Though there are advantages to both, double entry may work better long term for most startups that are looking at rapid growth as it lists assets owned by the business (cash, property, etc.), liabilities (dues payable to suppliers, vendors, etc.), and information on equity that represents different stakes in the company. Equity can also include the balance remaining after deducting losses from the profits.
With business growth, assets can include equipment, space or property owned, and intangible assets such as patents owned. For every entry made as part of the double entry system, there is a credit and debit record made in the business general ledger. Assets increase when there is a debit while liabilities increase when there is a credit. Ledgers are balanced by increasing or decreasing each side to maintain a balanced equation.
When services are completed and an invoice is generated, the double entry system records accrued expenses — or expense incurred — but also requires a record in the ledger. Accrual entries represent costs incurred by the business, or liabilities yet to be paid. This system helps determine the financial status of the business, including liquid cash available immediately. Most automation software can be customized to record transactions and balance ledgers as per business needs.
Double-entry bookkeeping systems can keep pace with a growing business, helped by automation and customized software. Determining whether this is the best option for a business may require the assistance of experts, including accounting and bookkeeping professionals. Professionals can help optimize the benefits of automation, if deployed. Accounting experts understand the life-stages of a business and can determine the right solution to streamline operations and increase productivity.
 Next Steps