Digital marketing is the in-thing these days. It allows small business owners to reach potential customers directly at a lower price and ultimately learn more about these customers' interests. You can connect with the target audience through social media platforms, email campaigns, websites, search engines, search engine marketing, pay-per-click ads, business listings, blogs, and influencer marketing.
If you are running a successful business in the current market and are looking to add more clients, consider investing resources and time in digital marketing activities.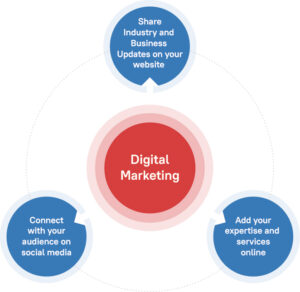 Steps to get started with digital marketing
It is advisable to add relevant graphics and content on digital profiles to attract users. Adding more content to your profile and website allows users to reach you faster. You should add relevant keywords, images, and designs that reflect both your products and services and your customer personas.
       1. Create a business listing on Google My Business and other platforms.
Create your virtual store for free, and help your customers learn more about your accounting firm. They can find basic information such as your business's phone number, email address, location, hours, and details about your products and services. You can also share personalized information such as your pricing model and service areas to engage more with users. By simply listing your business on Google's directory, you can generate more leads.
To improve your listing ranking, add more content, ask your customers to provide feedback and reviews, and update your listing frequently with new content.
        2. Create Social Media Accounts
One of the best ways to connect with your prospects and attract new clients is to promote your business on social media platforms like LinkedIn, Twitter, and Facebook. You can use these platforms to share your accounting expertise and attract users.
You can also share posts, news, and the latest updates about your business. To manage your social media activities effectively, consider using marketing automation tools like Buffer, BuzzSumo, Hootsuite and Sprout Social.
        3. Blogging, Vlogging and Self-branding
The audience on the Internet is often looking for financial advice. Sharing your knowledge on third-party websites and applications will help you build awareness around your expertise. It can also help you build the recognition required to establish your firm as resource for industry expertise. Consider offering educational content via:
Blogging
Short and long videos
Podcast
Webinars
       4. Business Website
Create your business website and allow prospective clients to view and learn about your services on their time. You can share a range of details about your company and services and easily influence your visitors by leveraging a well-organized, user-friendly business website.
Search engines like Google redirect traffic to top-performing websites based on metrics such as content quality, website load speed, updates, and relevant keywords. Therefore, be sure to regularly optimize all of these metrics so that your website receives a high number of daily visitors and ranks high in search engine results pages (SERPs).
Ways to improve Digital Marketing Strategies
Implement and integrate the latest technology
Incorporate automation tools
Optimize your business profile and website
Collaborate with influencers
Use system-generated data and reports to analyze market and customer needs
Perform keyword research
Digital Marketing
Digital marketing allows business owners like you to grow your practice faster and less expensively. Consider also leveraging paid marketing options to drive prospects.  Whichever options you choose to implement, invest some of your time in digital marketing to increase your firm's awareness of your competition. Also, consider outsourcing marketing functions to a strategic partner if you feel it is something you do not want to manage.
Next Steps
Explore Anaytix's outsourcing options that allow you to focus on adding clients
Email us at sales@analytix.comor call us at 781.503.9002.
Follow our blog for industry trends and the latest updates.