Surprisingly, many small to mid-sized business owners, when prodded, have no basis or accepted methodology for valuing their business. Many of us "think" we know what our business is valued at, but it is often difficult to determine objectively what the business is worth, separating out the passion and "sweat equity" we pour into our companies. For many small to mid-sized business owners, the value of their company may be their own largest personal asset. For businesses that may not be completely privately owned, the value of the company still significantly impacts the partners' overall compensation.
Critical to valuing a business is having an understanding of the company's financial situation. Accurate business valuations require a certain level of financial expertise and analytical experience, and keeping this level of expertise on staff full time can often prove costly for small businesses. However, with the advent of cloud computing, the ability of business owners to accurately value their business has exponentially increased providing them with significant benefits.
1. Real time access to financials- For business owners who have invested in cloud computing services, the financial data they can access is no longer a monthly (or quarterly) static figure. The impact of sales and purchases immediately factors into projections, so that owners can confidently assess their financial situation and have a handle on the health of their business. If they require outside assistance to analyze the figures, providing organized, real time data to the experts assisting with the business valuation is more efficient and therefore more cost effective.
2. Reporting and financial modeling- Many cloud computing programs and system providers offer the option of reporting various performance metrics, indicators that the business owners otherwise may not be able to access. Some providers include standard reports that track financial progress and allow for users to run various scenarios on income projections, evaluating how that then impacts the value of the company. Larger corporations historically have had the means to invest in heavy IT infrastructure and expertise to produce this type of reporting. However, cloud based systems that do not require heavily investing in IT architecture, infrastructure, and support have changed the way small to mid-sized companies do business in that they, too, now have access to this type of financial reporting. Smaller companies now can make decisions based on the same type of financial intelligence previously reserved for larger, more lucrative companies.
3. Transparency of shared data- For businesses prepping for potential sale, investment, or securing loans, cloud based systems allow business owners to share real time information with buyers, investors and lenders, adding credibility to financial data. Investors and lenders can be granted access to financials that provide direct insight into the health of a business, reducing concerns that the data provided to them is not "clean" data.
Although many factors impact the value of a business, such as strength of management team, the most critical factor is a company's financials. Maintaining updated, accurate financial records and having "real time" access to those figures helps business owners assess the true value of their company. We are currently offering a free analysis of your accounting business processes and accounting system. If you would like to learn more on cloud based systems can improve your bottom line and impact the value of your business, please call me directly at 781.503.9004 or email me at sales@analytix.com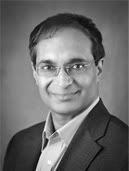 Satish Patel, CPA
President, Analytix Solutions
Satish Patel, Founder-CEO of Analytix Solutions, has more than two decades of experience as a CPA. He has also advised small and mid-sized businesses on diverse matters such as valuation, accounting, and finance. His experience extends to raising capital and arranging for finance from angel investors.