The payroll function is a task every business performs, whether it is a small or a mid-sized company. Smaller firms that maintain a solid, predictable revenue stream, may manage their books internally with assistance from an independent accountant. The accountant is devoted to processing payroll for a limited number of staff members, but is that where your accountant's time is best spent? There are most likely other functions that require accounting level expertise, especially as your company grows.
As you acquire new clients and increase business, a single independent accountant may not be enough to manage your accounting and bookkeeping functions, and you may need to hire additional staff to manage the increased workload.
Outsourcing your payroll function can alleviate some of this increased workload while providing the following benefits:
Cost Savings: A dedicated in-house payroll department can be very expensive for a small business, as it requires skilled, experienced, manpower to process the payroll, maintain accurate records for various withholdings, and manage timely cash disbursements. By outsourcing the payroll function, you eliminate the need to hire a permanent employee to fulfill these duties, while still having access to the expertise required.
Reliability: Payroll errors are taken very seriously by authorities. Irrespective of previous, impressive financial record keeping, payroll errors can escalate into significant issues, creating long term problems for your company. When you outsource your payroll function, this responsibility shifts to the vendor to ensure accurate, error free payroll processing.
Optimized Manpower: By outsourcing the payroll function, your in-house staff is free to focus on other functions which are more critical to your customer relationships and business development. You can also save money on salaries that would have been distributed to hire a permanent employee with payroll expertise or reallocate funds that would have been earmarked for an accountant to perform these tasks to other more meaningful accounting functions.
Timely Payroll: An in-house payroll department is also responsible for tracking staff changes and new employee hires, as well as the associated paperwork. Performing these tasks diminishes in-house staff productivity due to significant administrative follow-up. However, outsourcing the payroll function assigns these duties to the payroll service provider. A payroll provider takes into consideration staff changes and various changes in withholdings as a result, factoring these into planning so that payroll processing occurs on-time.
Increased Security: When payroll is managed in-house, business owners must closely monitor the processing or have complete confidence and assurance that the employee performing this function is trustworthy and incapable of fraud. By outsourcing the payroll, this burden is placed on the payroll processing provider. As a business owner, you save time and financial resources otherwise spent on monitoring employees responsible for this function.
Ask yourself if outsourcing payroll is right for your business.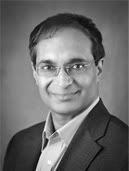 Satish Patel, CPA
President, Analytix Solutions
Satish Patel, Founder-CEO of Analytix Solutions, has more than two decades of experience as a CPA. He has also advised small and mid-sized businesses on diverse matters such as valuation, accounting, and finance. His experience extends to raising capital and arranging for finance from angel investors.