Taking your accounting online can help you streamline your finances, making for more organized accounting and reliability in other areas of your services offerings.
Organized data and better management
When your accounting moves online, human intervention is greatly reduced, automatically resulting in heightened accuracy. Because accounting is one of the basic functions in a business, scattered or poorly-maintained accounts can create problems across all your business offerings and client services. Online accounting automatically results in better organization of your records and helps you maintain updated and current records across the services and solutions you provide your clients.
Online accounting systems do not mean you no longer have control over your accounts. On the contrary, it takes off the drudgery from your day-to-day operations so that you have time and resources for your business concerns. Online accounting takes over data entry and management so that you no longer struggle with complex data or spend quality man hours in training staff to meet your specific needs. Once you hand over your needs to a qualified vendor, you will find that an online accounting system actually speeds up your operations overall, allowing you to provide deliverables and services to your clients better.
Complete and updated data
An online accounting system provides you with complete financial information at your fingertips. What is the money owed to you by your clients, what is the exact amount and by how much time is it overdue – all of these questions can be answered when you look at your accounts, provided they are updated. Low on cash? An online accounting system can help ensure you don't face crippling cash crunches that could force you to disable your client deliverables and regular services.
Further, having updated accounting means you are on top of your expenses and balance sheets. This is vital not just from the perspective of a business owner, but also from the point of view of investors who will examine your credit-worthiness. Here are some specific benefits that prove how an online accounting system can help you spruce up operations and deliver better solutions and services.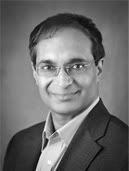 Satish Patel, CPA
President, Analytix Solutions
Satish Patel, Founder-CEO of Analytix Solutions, has more than two decades of experience as a CPA. He has also advised small and mid-sized businesses on diverse matters such as valuation, accounting, and finance. His experience extends to raising capital and arranging for finance from angel investors.