Outsourcing a project to a third party has become a strategic tool for business operations. Companies are looking for better ways to manage workflow, as well as increasing productivity. Outsourcing offers cost-effective solutions, team expansion, and the ability to manage peaks in workflow. More importantly, it provides small to mid-sized businesses with alternative solutions that support running a business with ease as opposed to reacting to what can be unexpected stressful situations.
Benefits of Outsourcing
Team expansion – add additional resources and skills to the team without heavy investment and risk
Cost-effectiveness – outsourcing can be provided on a scalable basis making it an affordable option
Enhanced productivity – better manage workflow by having additional resources and manpower on hand
Business development – allows business owners to shift focus away from operational issues to other aspects of the business, such as growing the customer base
5 Steps to Prepare Your Operations for Outsourcing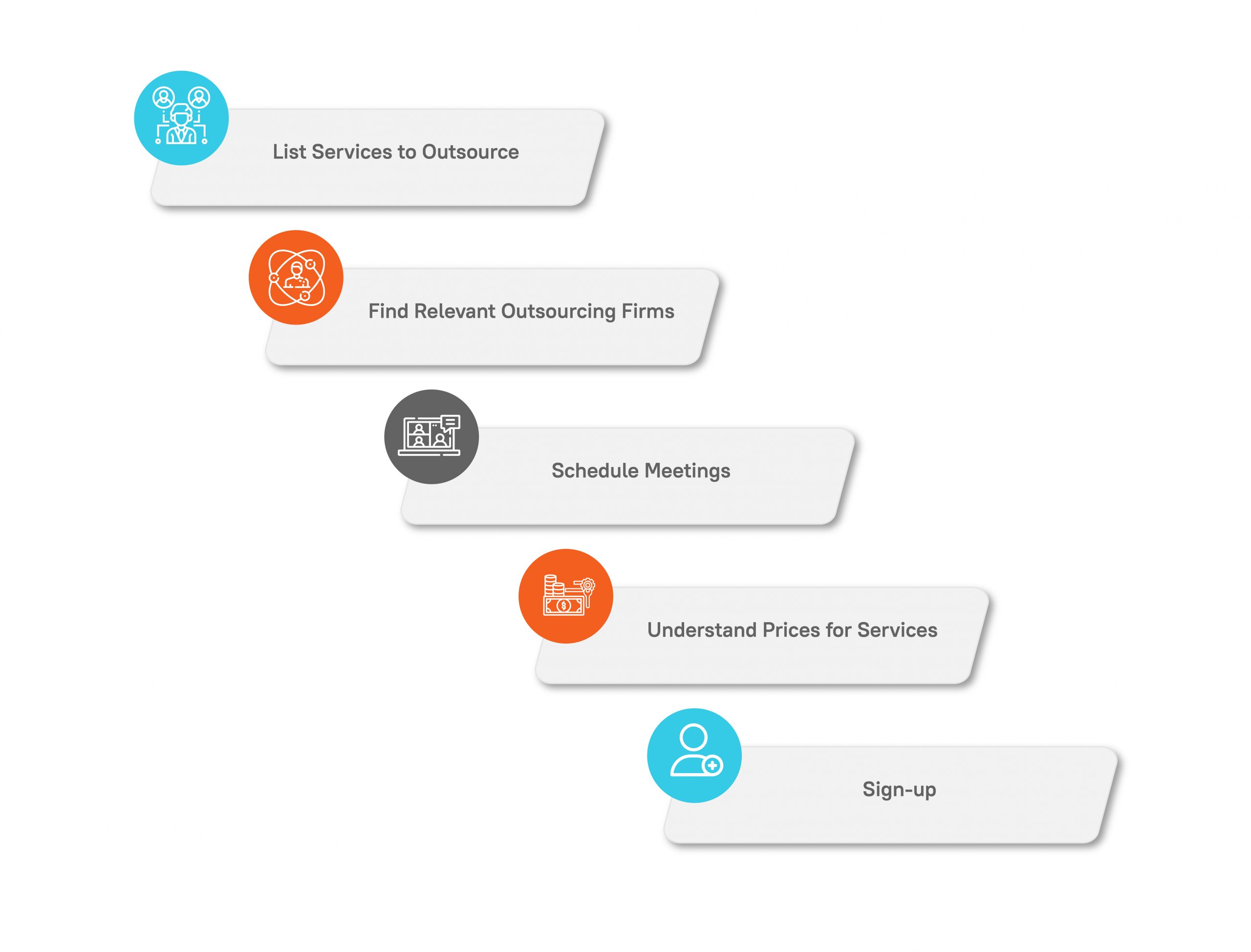 Steps involved in outsourcing
List services you need to outsource
There are many services you can outsource to support your business operations. From data entry to accounting and bookkeeping, many companies offer these services at reasonable rates.
If you have time-consuming tasks that shift your focus away from growing your business, consider outsourcing them.
Services to evaluate for outsourcing:
Administrative tasks
Data entry
Accounting roles
Bookkeeping services
Software development
Customer support 
Research outsourcing partner options
There are many firms offering outsourcing solutions that have a reputation for meeting clients' end-to-end needs.
Try to identify companies which provide services to an organization that is similar to yours. This will help narrow the search and better understand capabilities offered by outsourcing providers.
Research process
Review areas to outsource
Find relevant outsourcing firms
Request referrals and recommendations from peers
Outsourcing Tips
Choose a company that has many available resources
Look for companies that adhere to and comply with industry rules and regulations
Reach out to the firms that best align with needs
Once you have identified a few potential outsourcing providers and compiled a list of functions to outsource, you should begin drafting your requirements. This can be time consuming but it is an important step to ensure your needs align with the capabilities of the provider under consideration. Take the time to comprehensively evaluate the providers by scheduling calls, meetings, and demos to understand their capabilities and philosophy.
Points to remember – Checklist for Outsourcing
Establish requirements and "must haves"
Stay focused on aligning your needs with their capabilities
Request break down of costs
Ensure potential partners understand the importance of projects and deadlines
Discuss business agreements, such as Non-disclosure Agreements (NDA)
Compare services and business practices of providers
Once you begin receiving quotes, analyze and compare each of them. This will provide a better understanding of the charges and services you will receive. This is an essential step to ensure the right company fit.
Key focus areas
Pricing for services
Project management system
Success rate of previous projects
Client retention rate
Select your Strategic Outsourcing Partner
Once you analyze and compare offerings, you may have a few providers who rise to the top of your list. The goal is so select a provider who most closely aligns with your needs. Consider the points below to ensure you've selected the most appropriate provider.
 Checklist for Outsourcing
Highly experienced
Skilled professionals with additional resources
Transparency
Successful track record based on portfolio and case studies
Compelling customer testimonials
Security and guarantee
Outsourcing Tips
Choose a company that offers resources on a rotational shift
Confirm that resources have established communication protocol
Request that outsourcing partner provide time recap for resources allotted to your business
Additionally, outsourcing often involves sharing data with the selected partner. Data integrity and confidentiality cannot be compromised on any level, so make sure to carefully evaluate a prospective partner's data security practices as well.
Following the outlined suggestions as a guidance for selecting an outsourcing partner should help you navigate the process in selecting a company that offers high quality services at a reasonable price.
Essential points to keep in mind while outsourcing work
Trust your outsourcing partner
Ensure and request maximum security when sharing business data
Consider using offshore resources
Review resources timesheets every week
Ensure there are no hidden charges
Stay updated on the project timeline
Summary
Outsourcing helps you to streamline the business process and gives you access to resources with a high level of experience. Outsourced partners work effectively and efficiently so you can turn your focus towards business development activities. Before considering a large outsourcing project, start small and track progress and results. This will help you to understand the quality of work provided by the outsourcing firms.
Next Steps
Do you want to learn more about outsourcing opportunities and how they can positively impact your business? Get in touch with us today and speak to an expert.
Email us at sales@analytix.com or call us at 781.503.9002 today.
Follow our blog for industry trends and the latest updates.