Have you ever wondered how Robotic Process Automation (RPA) can future-proof your business and help you grow without bearing any linear costs like recruiting more people?
RPA is redefining the accounting and finance profession in 2020.
According to Gartner, RPA software is the fastest-growing segment of the global enterprise software market. Yet another report by Mckinsey reveals that RPA can deliver an ROI of up to 200% in the first year of deployment along with cost savings of 20-25%.
As organizations look to become more agile and streamline operational efficiency in the post-COVID-19 world, RPA presents an exciting opportunity to reduce costs and drive higher levels of performance.
Understanding RPA
RPA is the use of software with Artificial Intelligence (AI) and Machine Learning (ML) capabilities to lower the cost and increase the effectiveness of routine clerical processes. These bots are extremely effective at handling high volume repetitive tasks such as addressing queries, making calculations, maintenance of records, performing transactions, and much more.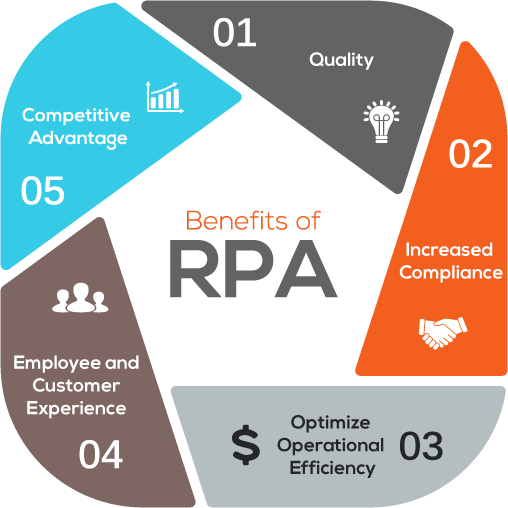 Benefits of RPA
Quality
RPA bots perform tasks with a high degree of accuracy and consistency, thus eliminating or reducing the inconsistencies and errors of human performance. Furthermore, deploying RPA helps streamline and optimize processes, thereby improving compliance management. The virtual robots improve the audit ability, speed and performance, which enables a business to easily scale and refocus its staff.
Increased Compliance
Given the complex regulations, tight deadlines, and high compliance costs, RPA is quickly gaining traction in the finance and accounting industry due to its ability to perform routine compliance tasks faster and more accurately than human resources. Thus, deploying RPA in risk monitoring, control, and reporting helps in better management of risk and compliance while also liberalizing valuable human resources to focus on higher value-adding activities. Most companies have disparate systems such as mainframes and cloud technologies but they don't necessarily interact seamlessly. RPA, on the other hand, can execute processes across multiple systems and applications in a non-interruptive and non-invasive manner, without making any changes in the existing legacy systems.
Optimize Operational Efficiency
Unlike the human workforce, RPA bots operate 24/7 without any decrease in productivity. This ability allows small businesses and CPA firms to be leaner and more agile. Moreover, the processes and tasks automated are typically performed by bots in a fraction of the time taken by humans. According to Gartner, finance departments can save 25,000 hours of avoidable work annually using RPA – that counts to 625 workweeks!
RPA allows businesses to automate tedious or repetitive processes to save time and money and increase employee productivity. Since RPA bots can process a large volume of data and can be scaled instantly to swiftly respond to a peak in a surging demand, it results in faster processing and reduction in errors, leading to increased efficiency. Thus, it allows you to be more agile than you were while using people for the same tasks. Moreover, using RPA emancipates key resources to handle more complex and analytical type of tasks since the bots handle the daily repetitive tasks.
Employee and Customer Experience
Clients aren't the only ones who can benefit from RPA. According to a study by Forrester constituting 100 decision-makers from different organizations, 60% claim that RPA helps people focus on more meaningful, strategic tasks. The ability to perform processes with higher quality and more quickly than anyone can do manually, allows you to pass along the benefit of cost-savings and operational efficiency to your clients. This helps in reducing prices, decreasing the turnaround time, and providing an enhanced service to the customers.
Competitive Advantage
Deploying RPA can provide a high potential ROI and a short payback period of around 12 months. Given the intense competition for market share, the consistency and flexibility that RPA offers small businesses and fast-growing CPA practices allows them to offer cutting-edge customer experience to clients. A recent Forrester survey reveals that in addition to being a key component of a broader digital transformation, RPA is a cost mitigation strategy according to 88% of the respondents.  Moreover, deploying RPA allows you to access big data as well as gain real insights to understand the patterns leading to the transactions and driving certain behavior. Embracing RPA helps you to grow and expand your business without adding additional workforce while also allowing your best people to focus on more value-added work.
Embracing RPA
Even as RPA adoption helps optimize costs, achieve higher accuracy, improve cycle times, increase compliance, and much more, there is an adoption hesitancy, mostly related to people's lack of knowledge in this space. However, the sooner you look into leveraging RPA and learning what it can do, the better it is for your business.
All you need is a reliable partner who can guide you through the adoption challenges and help you identify the RPA best suited to your business.
With our combined accounting and IT expertise, our team at Analytix offers services ranging from bookkeeping to CFO level expertise or accounting systems integration.
Next steps