Nowadays, there are many ways to grow businesses faster to survive in a competitive marketplace. One way is to add the latest technology to automate day-to-day tasks. Some companies are even considering outsourcing their key functions like bookkeeping and accounting to smoothen the business process. This may sound a bit scary for some people, but it is important to explore the benefits of outsourcing and how much it can be of help. Outsourcing enhances work quality and expands your workforce without experiencing the time-intensive hiring process or having to financially support full-time employees.
Importance of outsourcing
Your day-to-day work can easily migrate to an outsourced team in which you can feel confident. Your remote team will take of complete tasks and keep you regularly updated.
This is one of the highlighted perks of outsourcing. A remote team will work with your processes to make sure work is completed to your expectations in a timely manner. Additionally, remote teams can train additional remote staff if needed as the workload expands, again saving you time and resources.
When you move your labor-intensive work to a trusted team of experts, you have time to explore important aspects of the business and capture new markets. You can also do things like take on more clients, offer new services or products, and focus on your overall business strategy.
Pros of outsourcing
Outsourcing accounting firms have access to a large number of resources when compared to a local talent pool. They can hire and manage these resources for you so that you can reap all the benefits without having to worry about heavy costs or commitments. These resources are available at your disposal and ready to accomplish your tasks at given deadlines.
Do you have projects that need regular attention and must be completed ASAP? Using an outsourcing company with a large workforce means that your deadlines are easily met with quality work.
Hiring in-house resources is costly and complicated. Outsourced talent provides expertise at reasonable costs. An outsourcing partner will charge you based on project deadline and complexity, number of hours, or full-time utilization. The prices vary from organization to organization because of their working standards.
To maintain a good relationship with clients, outsourcing companies appoint account managers to maintain quality of work. This helps in reviewing the client's work before it goes for final submission.
Some external accounting agencies connect you with professionals who can work in flexible time shifts to address your needs. This is essential if you wish to work closely with resources without any time gap.
Are you worried about deadlines, miscommunication, and quality work? Don't! Outsourcing firms follow the best process for completing client work on priority. They also follow strict training and security protocols. In addition, they also have a predefined reporting system so you can check project progress as well as employee's timeline to calculate productivity.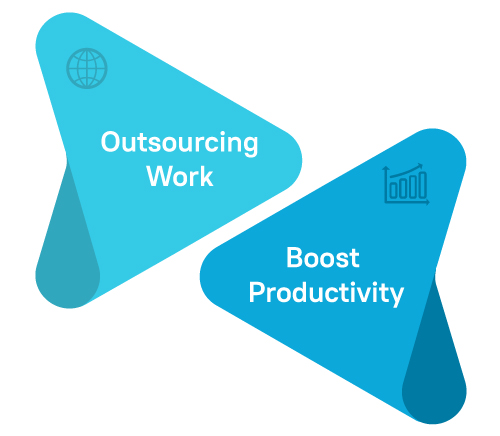 Cons of outsourcing
You have no choice but to trust your outsourcing partner with regular business activities, documents, and reports. On some level, you are giving access to your company to a stranger without any conditions and guarantee. This is one of many outsourcing risks.
Note – Work with a reputable company that follows business standards and provides all the security measures while sharing documents.
Save yourself from firms that practice adding hidden costs on every invoice. This is a standard practice in many organizations to earn profit.
Note – Review your outsourcing partner portfolio, testimonials, retention rate, and case studies.
Not every outsourcing company provides expertise on flexible time shifts. So be clear about requirements to avoid problems during projects.
Note – Know your outsourcing partner as well as outsourcing team.
Lack of communication between you and your resources can delay project deadlines and create misunderstandings.
Note – Interview candidates or project managers to eliminate this problem.
The above-highlighted outsourcing pros and cons can help you in your decision process.
Conclusion
Outsourcing work is a good option for any organization that wants to grow faster and boost productivity. Likewise, there are multiple benefits when you migrate your work to outsourcing firms. Some of the advantages are adding more resources to the existing team, access to technology, professional expertise "on-demand", and leveraging existing infrastructure. You can eliminate disadvantages by reaching out to an experienced outsourcing accounting and billing firm.
Next steps
Do you want to attain more insight into outsourcing firms and their services? Contact us today for a detailed explanation of how outsourcing work helps your organization.
Email us at sales@analytix.comor call us on 781.503.9002 today.
Follow our blog for industry trends and the latest updates.