How well do you know your tax and business laws? If you're an entrepreneur or a small business owner, you're already aware that laws and regulations for businesses differ from those for personal financial management. For most small businesses, providing clients with high quality products or services takes precedence over most other activities. Many small to mid-sized companies were launched to fulfill an entrepreneur's dream of running their own business or developing an extraordinary idea. Chances are, the business owner was not starting a company out of a desire to delve into the administrative and financial aspects of running a company. Therefore, it is critical for startups and small company to hire the right people for managing these aspects of their business.
What are a few ways to easily manage finances?
Find the right resource
Unless you have expertise in financial management, you are better off not managing your company's finances yourself. Hiring a good bookkeeping, accounting and financial resource can help minimize errors and ensure that reports include the essential data. The right resource can also help minimize financial losses and assist in streamlining accounts better.
Compare this with hurriedly-executed financial work completed by someone whose primary responsibility in your company is not accounting and bookkeeping. Furthermore, unless the employee managing the finances is trained on these functions, there is the likelihood for errors that can result in inadvertent fraud for your company.
Choose the right software
For most small businesses, budget crunches and constraints can pose limits on investments in infrastructure. In turn, this can impact client deliverables and therefore business growth. Alternatively, most businesses have shifted to online systems. This eliminates the need to hire and retain expensive manpower, thereby reducing the need to invest in additional office space, furniture, etc. The most important qualifications to consider when purchasing software are that the software meets your specific needs and enhances your client deliverables.
Automate and integrate systems wherever possible. This significantly reduces time spent on manual processes and costs, while improving adherence to deadlines and overall data accuracy. Most software programs eliminate time gaps between actual financial transactions and report generation, thus timely access to data and accuracy improves radically. Your basic bookkeeping or record-keeping is completed automatically.
If you are confused about what type of software is most appropriate for your business, there are many vendors who provide specialized services and can guide you in selecting the best software, as well as provide support for that program if required.
Keep costs of operation separate
A good way to ensure your operation costs remain separate is to outsource your work. When you outsource this work, you avoid locking up capital in areas such as infrastructure and salaries. Outsourcing is also available for critical functions such as bookkeeping and payroll management. In addition, outsourcing specific operational functions can provide you with the flexibility to pursue business development activities.
Following the above suggestions should assist in the financial management for your business.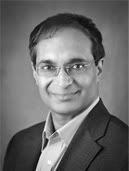 Satish Patel, CPA
President, Analytix Solutions
Satish Patel, Founder-CEO of Analytix Solutions, has more than two decades of experience as a CPA. He has also advised small and mid-sized businesses on diverse matters such as valuation, accounting, and finance. His experience extends to raising capital and arranging for finance from angel investors.