The rapid pace of technological change continues to disrupt traditional procedures in all circles, including the accounting profession. With increasing market demands, changing regulations, and generational changes, accountants must adapt quickly to stay relevant.
According to the Practice of Now report by Sage, 85% of accountants stated: "We need to pick up the pace of technology adoption in order to be competitive in the international landscape."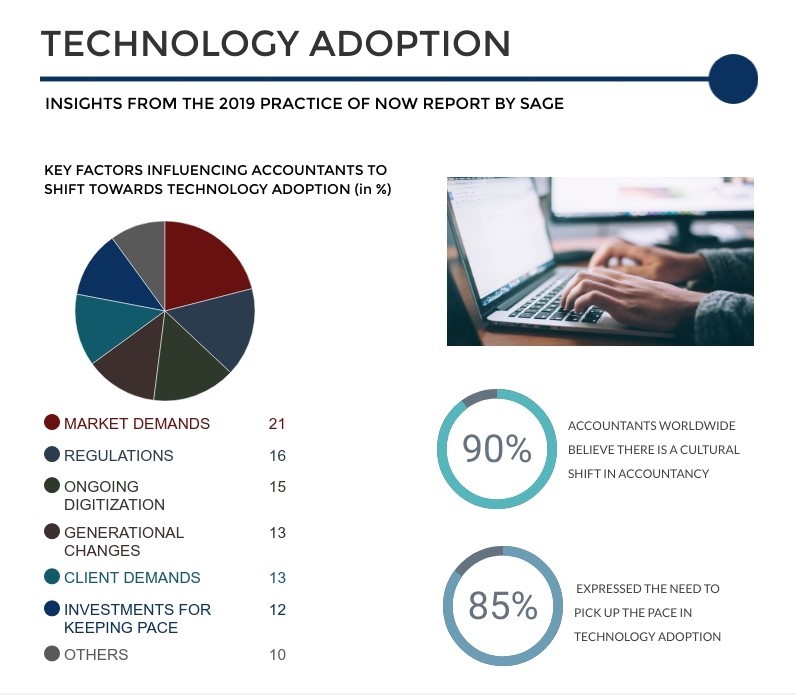 So how do accountants stay relevant and remain competitive in the marketplace?
Switch to Cloud-Based Software
Embracing cloud technology helps you make the switch to disruptive technology as soon as possible. It is, in fact, a precursor to all the technologies that follow.
According to accountancy age, by 2020, 78% of small businesses will rely solely on cloud technology. It is always secure, up-to-date with the latest technology, gives real-time access to client's data, and provides opportunities to collaborate as well.
For a small firm with limited clients, embracing cloud-based accounting solutions can help with accurate accounting and payroll processing. Whereas for a CPA practice, cloud-based solutions give access to a range of customized accounting services and efficiency tools that better serve clients.
Automation in Tax Software
Traditional tax software has helped accountants reduce their margin of errors. However, an understanding of accounting software that uses automation is necessary to effectively conduct audits. Accounting operations rely on different tools, and fully integrating these solutions provides accountants with industry-specific services. Utilizing specific software solutions can help you better manage invoicing, payroll, inventory and even generate accurate financial reports. For instance, Insight360, a cloud-based platform, helps accountants automate their back-office processes and provides critical insights on your business's financial and operational performance.
The ongoing pursuit of technology must be seen as a strategic and tactical shift to drive more revenue and profitability. It also presents opportunities for specialization, a sharper client focus, and more relevant and timely services. As a trusted outsourcing partner, Analytix helps you grow your business through its accounting aptitude, cross-functional expertise, and access to advanced technology.
Next Steps