If you feel overwhelmed with work and client management in the competitive market, it is time for your firm to explore advanced business options like outsourcing. Outsourcing provides a fantastic solution to reduce workload and allow the internal team to focus on other lucrative tasks.
To free up your schedule and enable business growth, outsourcing is an effective resolution for companies that want to expand or just run more efficiently. In addition, it allows you to expand your client base as well as your offerings.
Outsourcing allows CPA firms to focus on core competencies, improve productivity, expand team, and aids in technology advancement. Outsourcing companies allow their clients to have instant access to high-talent staff without the time, effort, and liability it would take if they had hired their own staff. They provide an end-to-end solution so that CPA firms can develop new strategies for financial and tax management.
With outsourcing, you do not have to spend a significant amount of time reviewing accounts, books, payroll, tax return filing, and other data processing tasks. Furthermore, outsourcing firms process all the tasks accurately and on time.
As we know, a CPAs' core functionality is tax planning, financial management, risk planning, advising clients, and optimizing investment opportunities. Nevertheless, bookkeeping is a tedious task involving reconciling accounts, preparing monthly reports, and identifying profit and loss. These are time-consuming activities, which can stop CPAs from pursuing other endeavours.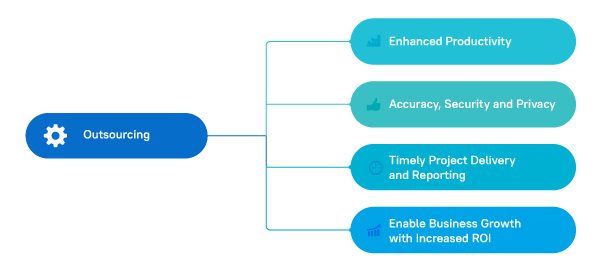 Bookkeeping
Requires a tremendous amount of time and attention.
Can influence taxable income and decrease revenue.
Measures business performance and represents profit and loss.
How does outsourcing enable growth?
They offer dedicated and skilled resources to ensure that accounts and books are updated regularly with accurate information while understanding all the compliance and clients' requirements.
They follow a systematic process to ensure tasks are completed on time with proper reporting.
They prepare all the financial documents required for tax filing and reporting.
Outsourcing firms use the latest accounting technology to process tasks and activities on a cloud platform for easy project access.
Outsourcing offers all the required services, from data processing to financial management, to enable growth.
Adding external resources is cheaper compared to an in-house team.
No extra expenses like hiring, infrastructure, and management cost.
Benefits of Outsourcing Bookkeeping Services
Allows internal teams to work on productive business growth and processes.
Access to the latest accounting software and cloud technology are usually included in outsourcing pricing.
Project manager and management tools enable error-free work. Nevertheless, books are reviewed multiple times to ensure accuracy.
Daily, weekly, and monthly reporting allows you to track project progress on the shared platform.
Outsourcing firms follow all the compliance and conditions to meet end needs.
While some companies utilize outsourcing agencies for efficiency, they also have the option for scalability, which means adding and subtracting resources from the team anytime to reduce expenses.
We have enabled our client success with professional accountants who can provide comprehensive business growth services. Our outsourcing models are designed to protect your business data and your client's privacy.
Do you want to reduce workload and focus on core competencies?
Next Steps
Learn more about how professional accounting and bookkeeping services and customized automation can help your firm grow.
Please email us at sales@analytix.com or call us at 781.503.9002 today.
Follow our blog for industry trends and the latest updates.