Efficient payroll is critical to business success because being paid on time is essential for staff productivity, motivation, and the positive contribution to the success of the company. Aligning payroll with other business functions can be challenging for small businesses with limited staff and financial resources.
Implementing software may work for some aspects, but does not take into consideration all the intricacies of streamlined payroll. When paying salaries, businesses must account for hours worked, leave taken, tax and compliance matters, as well as employee retention and severance. All of this data must be processed accurately and on time to ensure consistent payroll. Regardless of whether there is a separate HR function or HR management is handled by business owners, mistakes in processing a high volume of data can quickly lead to frustration, resulting in loss of time and productivity.
Outsourcing payroll can resolve all the frustrations surrounding payroll management. According to a report by Beroe, a provider of critical market analysis, payroll outsourcing is growing at a compound annual growth rate (CAGR) of 4.4% and is estimated to reach $10,336 million by 2023. There are many benefits to outsourcing payroll, including: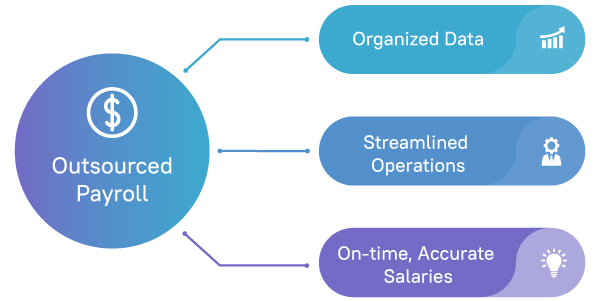 Integrating multiple payroll elements
Accuracy and timeliness are central when integrating Human Resource requirements such as employee benefits and paid leave – factors contributing to salary calculations. Outsourcing payroll helps deploy intelligent automation that tracks and records hours worked and benefits, and calculates the business financials outflows. Outsourcing service providers have in-depth expertise of the payroll process and are ideally equipped to ensure efficiency. Payroll outsourcers regularly test systems to identify potential problem areas and remove redundancies.
Information including company rules, regulations, and policies are organized within the automation software. Choosing to outsource helps businesses ensure well managed, efficient and error-free payroll processes so that business owners can shift their focus to revenue-generating and business building activities.
Reliably managing bookkeeping and finances
Payroll generates information including benefits, deductions, payroll taxes, and amount earned. This data must be recorded and accessible for financial planning, budgeting, forecasting, auditing, and most importantly, analyzing the financial health of the business.
Reliable bookkeeping is a critical aspect of business operations, and one that can have far-ranging implications. Outsourcing payroll helps ensure reliable bookkeeping records and leads to streamlined and accurate business accounting.
Tracking tax obligations and submissions
Businesses are required to calculate payroll tax withholding and to submit it as part of their year-end tax statement. This verifies the accuracy of overall tax figures and confirms tax obligations have been met.
Outsourcing payroll helps decrease discrepancies in reporting, maintains accuracy, and ensures reports are filed on time.
Startups, small, and midsize businesses that manage payroll themselves experience data errors and forfeit valuable time that can be spent growing the business. Discrepancies in reporting are time consuming to resolve. Businesses need to have error-free books for lending and audit purposes.
Outsourcing allows access to infrastructure and insights to execute existing operational needs, while allowing businesses to pursue critical revenue-generating activities, including meeting prospects, networking, presenting, and pitching services.
Next Steps