Why You Should Consider Moving To Online Bookkeeping Services
By Satish Patel
January 10, 2013
0 Comments
An online bookkeeping system can take off a large amount of load from your regular services and operations. Because bookkeeping is a largely numbers-based function and because it depends heavily on details and accurate report-making.
Automatic Invoicing And Management
Online bookkeeping can ensure you never miss out on making timely entries or skip on entering details of invoices across your business services and solutions. When you move to online bookkeeping, elements such as amount payable and receivable are updated on a timely basis while management of other essential bookkeeping entries is also taken care of. You can also customize invoicing. As a result, you're always in the know of where you stand regarding your funds.
Ease of Access
With information saved at a physical location, you may need to undertake physical data transfers as and when needed. Once you move to online bookkeeping systems, you will be able to access your data and reports from anywhere, regardless of your physical location, thus ensuring that your services remain uninterrupted. Online bookkeeping services also enforce more security as they involve limited access or access by means of passwords, etc.
Cost Saving
For small or mid-size businesses, the advantage of operating out of a remote location can translate into savings of costs since they no longer need to invest in setting up physical offices and infrastructure. An online bookkeeping system can do away with the need to spend big amounts of money in office rentals and employee hiring and retention; you can continue providing services from a remote location, for example, your home. Similarly, you can hire resources who can then work remotely as well, from their respective locations.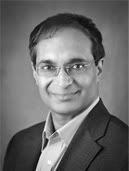 Satish Patel, CPA
President, Analytix Solutions
Satish Patel, Founder-CEO of Analytix Solutions, has more than two decades of experience as a CPA. He has also advised small and mid-sized businesses on diverse matters such as valuation, accounting, and finance. His experience extends to raising capital and arranging for finance from angel investors.