Although not always the most exciting aspect of a business, a company's accounting system is its backbone. The accounting system is the engine that drives the machine, providing business owners with key indicators regarding their profitability and the overall state of their business. Companies that have a firm grasp of their financials are positioned to succeed in the market across industries. Essential to that success are timely and accurate accounting figures, as well as the confidence business owners can place in the accuracy of those figures.
More and more frequently, small to mid-sized businesses are recognizing the need to automate their accounting systems given the speed at which they often need to make financial decisions. Manual accounting tasks can be time consuming, mundane, or duplicative tasks, and they can be prone to human error. Fortunately, there are currently numerous dependable accounting programs on the market, such as QuickBooks and Great Plains. Additionally, with the advent of cloud computing, information such as current data and immediate access to financial reports is available online, anytime and anywhere. Business owners can access the data themselves when they need it, without having to work through another department. These programs can greatly assist small to mid-sized companies in automating their systems and tasks such as expense approval and time entry, which in turn increase their profitability.
Benefits to automating your company's accounting system include:
> Eliminating redundancies in manual data entry.
> Reducing risks of errors and duplicate entries.
> Ensuring data integrity through automation.
> Self-service, accessibility to timely financial reports.
> Up-to-date information via cloud computing technology, anytime, anywhere.
> Improved productivity.
> Motivating staff.
Analytix Solutions provides a team of accounting and technology experts with extensive experience in helping companies automate their accounting systems and integrate third party applications with various accounting systems. We can help you to run your business more efficiently by automating key processes and assisting you to select solutions which align with your unique business requirements.
We are currently offering a free analysis of your accounting system and other business processes. If you would like to learn more on how we can increase your bottom line by automating your accounting system or if you know a colleague that can benefit from our services, please call me directly at 781.503.9002 or email me at sales@analytix.com.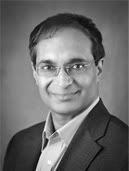 Satish Patel, CPA
President, Analytix Solutions
Satish Patel, Founder-CEO of Analytix Solutions, has more than two decades of experience as a CPA. He has also advised small and mid-sized businesses on diverse matters such as valuation, accounting, and finance. His experience extends to raising capital and arranging for finance from angel investors.