Accounting system optimization involves implementing software to enable quicker turnaround for accounting functions. Specifically, optimization can make for easier, faster, and more accurate accounting, such as processing payroll or resolving accounts payable. Optimizing your accounting systems also reduces the need for manual practices.
Is your accounting system optimized effectively to fully leverage its capabilities?
It's a common practice for accounting firms to rely on software programs to carry out their accounting functions. However, if the programs are not optimized well, the users cannot take full advantage of the system's benefits, resulting in a system that boasts the latest technology but one that is not leveraged.
There are many benefits to an automated accounting system, especially for a small or mid-size business.
Computerized accounting ensures greater accuracy and speed, resulting in more dependable operations.
Automated accounting systems save time over manual processes, enabling you to complete more in a shorter time period.
Automated accounting systems reduce costs associated with establishing a dedicated accounting department, requiring permanent skilled manpower.
Ensuring Optimization
Optimizing your system does not mean completely overhauling your existing system or installing expensive, new software.
However, your first consideration needs to be your company's operational requirements.
Optimization involves professional software knowledge and is best managed by a professional who understands your company in terms of business offerings and client deliverables. This approach considers the importance of customization and offers solutions that are tailored to your unique business needs.
Customized solutions account for your business deliverables and client requirements, ensuring that your system is utilized optimally. These solutions also reduce time and financial expenses, while significantly increasing productivity.
Tips for effectively optimizing your system include:
Undertaking a comprehensive assessment of your needs and requirements.
Including non-accounting functions such as time tracking or resource allocation.
Generating readily accessible reports in an electronic format, thus eliminating the need for paper reports. This can also include interfaces that allow you to access data and accounting information, independent of physical location.
Reducing the need for human intervention and streamlining processes with adequate security measures in place.
If your accounting system is fully optimized, your business will run more efficiently allowing you to take advantage of significant operational improvements.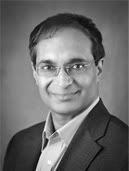 Satish Patel, CPA
President, Analytix Solutions
Satish Patel, Founder-CEO of Analytix Solutions, has more than two decades of experience as a CPA. He has also advised small and mid-sized businesses on diverse matters such as valuation, accounting, and finance. His experience extends to raising capital and arranging for finance from angel investors.