If you are an entrepreneur, it is your responsibility to manage the business effectively and grow it strategically. Strategic planning is essential to success in the competitive market. It involves business analysis, budget allocation, new strategies for marketing, analyzing the current market, and understanding evolving market trends.
Our experts believe that business budgeting is critical for faster growth, increasing revenue, and eliminating unnecessary expenses. The primary advantage of budgeting is that it allows you to stay focused on business goals and get expected progress in the fiscal year without worrying about finances.
Benefits of Budgeting
Helps strategic planning and predictions
Strengthens business decisions
Better financial management
Improves risk management
Assists with tax planning
Helps attract new investors
Business budgeting starts with the process of collecting business data, understanding market demands, and aligning business goals.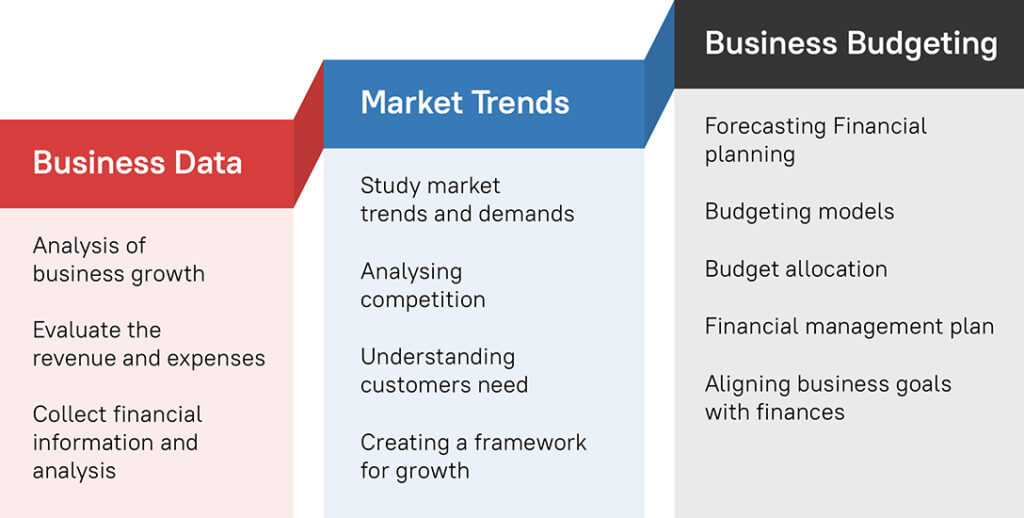 Steps to set a budget for your business
1. Evaluate revenue and expenses
To set a perfect budget for your business, you need to review your previous year's accounts, books, and Profit and Loss Statement. Evaluating revenue and expenses helps track the funding of the business. This process can help give you the exact funding available for the fiscal year. This data will help you understand your business's performance and improve business progress.
2. Business performance analysis
Business analysis helps you choose working strategies and allows you to improve business processes and operations. You can also review new opportunities, and most importantly, business analysis helps eliminate unnecessary expenses and non-profitable investments. Moreover, you can identify new strategies and objectives for future business ventures.
3. Review market trends
To set a budget for the business growth, you will have to understand how competitors optimize their business strategies with present market demands. Studying market demands will help you develop higher-quality products and solutions to increase revenue. Moreover, you will better understand your customers' expectations and thus be able to serve them better.
4. Financial planning
Financial planning is essential to utilizing funds wisely and creating new business opportunities. Business executives conduct financial planning to predict future income, withdrawal plans, risk management, cash flow, long-term investment plans, and evaluation of assets and liabilities. Since this can be a complex task if you do not have the expertise required to carry out financial planning, it is advisable to seek relevant advice from experts.
5. Budget allocation
Budget allocation is as important as charging clients for products and services. This process enables you to set the budget for marketing, products and services, infrastructure and technology development, investment plans, staffing, and management. Allocating a specific budget to all functional areas and departments makes your business ready for the future. According to our research, companies should allocate a specific budget for implementing the latest technology to automate data management and day-to-day tasks and thus survive in today's market.
Business budgeting is tricky, time-consuming, and complicated. We have prepared these steps to make your work easier. We understand that allocating your crucial time to the above tasks can divert your attention from core competencies. We provide end-to-end outsourcing services to businesses like yours to provide a comprehensive solution. Our expertise has helped clients with financial management, business analysis, and other necessary services to grow in the competitive market. We also leverage the expertise of certified accountants and dedicated resources to reduce workload. This makes it easier for our clients to respond to competition, make more sound decisions and reduce financial risks.
Next Steps
Let our experts perform budget forecasting and business analysis to prepare your business for success.
Email us at sales@analytix.comor call us at 781.503.9002 today.
Follow our blog for industry trends and the latest updates.