The most active businesses in this world are in the food industry. With what seems like thousands of things happening at the same time, you need a superpower to manage a busy restaurant. A power that provides automation in operations and frees your time to grow your business, and maybe this power is a great accounting and finance partner.
We understand the problems of the restaurant industry and have compiled some amazing ways for you to streamline your business operations. These solutions help you in budgeting, sale management, vendor management, sales forecasting, payroll, invoice capture, streamlining orders, inventory management, back-office activities, account management, employee scheduling, daily franchise reports, and integrating with multiple systems like POS, banking partners, web portals, and vendor applications, in which you can manage and view multiple reports in a single screen. When you put all of this data in one place, it gives you the power to make more efficient and effective decisions.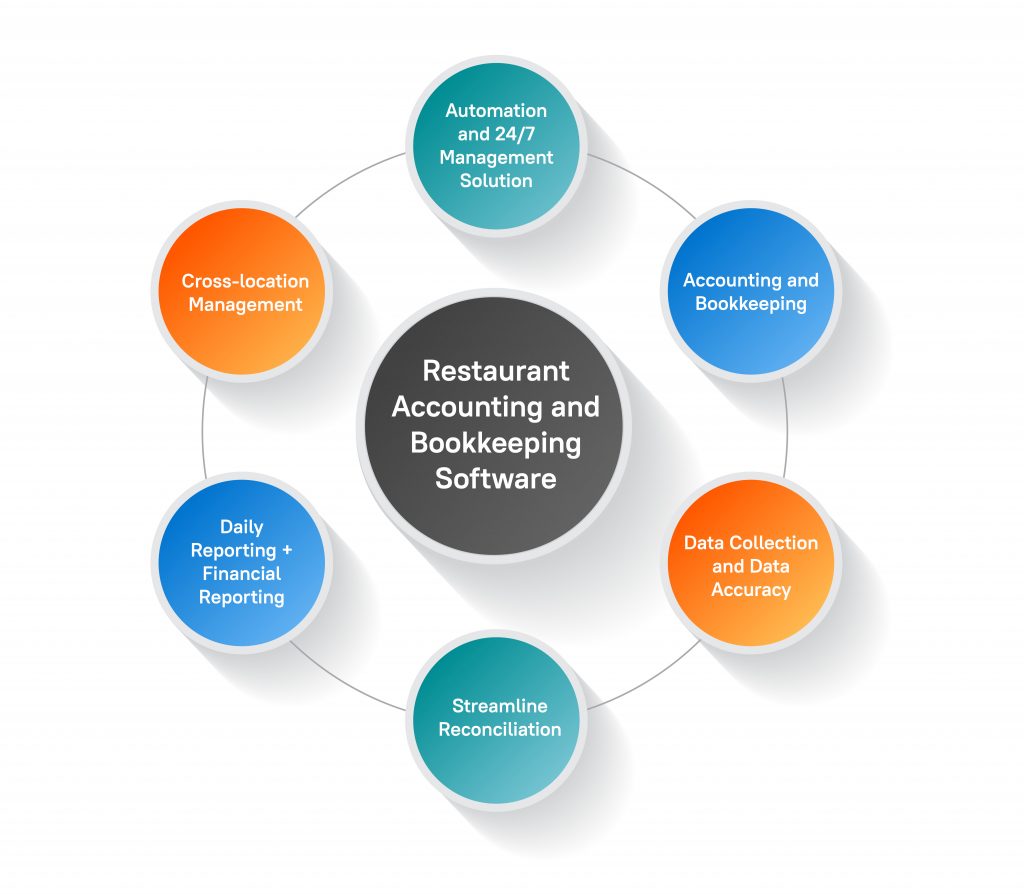 With many key features available for our restaurant accounting and bookkeeping software, let's review them one by one to understand the impact they can have on your business.
Back Office Support with Restaurant Accounting Software
The tactical task of the business in managing financial resources, accounts, and books is error-free updating. Restaurant accounting software helps in automating all transaction-related activities (accounting and restaurant bookkeeping). From recording the transaction into correct accounts and books to bank reconciliation, the software streamlines the entire process. You can set up payroll functions too so that payables are sent automatically and on time.
The restaurant industry solutions allow you to grow faster in the competitive market. You just have to integrate all your systems into Restaurant Accounting Software.
Benefits
Stay ahead of tax compliances
Manage and understand finance adequately
Track and record transactions daily
Data Collection with Restaurant Accounting Software
When you manage a successful restaurant, data is coming from everywhere and it is important to understand it so that you can successfully develop your business. You have incoming and outgoing data about sales, accounts (payable and receivable), invoices, pending bills, inventory, upcoming orders and deliveries, and a lot more. To manage this often requires multiple applications and an on-demand presence; this is time-consuming and stressful.
Thanks to state-of-the-art technology, you can manage all business activities from a single screen and take appropriate actions as necessary. In addition, restaurant accounting software is accessible from anywhere and on any device. One single software program collects data from different systems and analyzes it for you, so you can understand your business in a glance. The software helps you compare previous and present sales so you can make better marketing strategies.
Benefits
Forecast future sales
Improve marketing strategies
One single source for all valuable information
On-Demand Reports with Restaurant Accounting Software
Forget paperwork and start saving time. With a single click you can generate reports including prime cost, daily P&L, employee productivity, POS data (in multiple locations), expenses, and cost of goods sold. Request that the report be delivered every morning automatically so you can plan your day accordingly.
Benefits
Generate analyzed reports with clicks
Save hours of time and discussion
Take right actions on time
Improve Efficiency with Restaurant Accounting Software
Restaurant accounting software is custom designed specifically for your business so you have the power to streamline day-to-day activities. From employee management (attendance to payroll) to P&L management, check automated generated reports and take necessary actions. This allows you to focus on core competency and get ahead of the competition.  You get accurate accounting information, reduce labor costs, expand operations, and add fully automated data entry support.
Benefits
Automate payroll with proper taxes, deductions, and other calculations like employee leaves and employee working hours. This helps track employee details and the cost of labor.
Get valuable insights and detailed reports in attractive charts.
Automate all of your business functions and restaurant bookkeeping.
Do you want to implement and integrate the latest software in your restaurant? Choose professionals for financial management and follow these next steps to get ahead.
Next Steps