If you have a workload that needs expertise on-demand, you should consider outsourcing CFO roles. Outsourcing lends an extra hand to improve productivity and expand your team with ease. It can help you complete tasks faster.
An outsourcing partner can provide accounting, bookkeeping, recording keeping, and financial and tax management services. Outsourcing companies follow industry standards to protect your business and client data. Further, they have a structured working process to reach a satisfactory outcome for your business. Finally, they use the latest accounting and business management technology to automate regular tasks.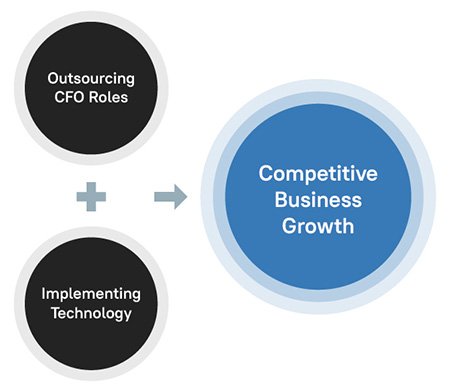 A strategic outsourcing partner offers dedicated resources and daily, weekly, and monthly reports to streamline project performance. You get an end-to-end solution to grow your business in the competitive market.
The list of most common outsourced CFO services
Budgeting and Forecasting
Having a financial plan for your business goals is an important strategy for growth in the competitive market. This can help businesses stay out of risk and plan a detailed path to success. These CFO services can help you consider the business's past, present, and future to make the best decisions. Moreover, these will help you understand the financial side with comprehensive insights to improve business strategies, and budgeting aids in allocating funds strategically to meet the company's plans.
Cash Flow and Revenue Management
Understanding your business expenses can help you identify where funds are being utilized and if these expenses are worth it. Outsourcing firms provide the complete financial analysis that can help you restructure contracts between vendors and clients, and update business policies to industry standards. These can help you increase revenue and improve existing business prospects. In addition, you can review and enhance your revenue strategies effectively to grow faster.
Key Performance Analysis Indicator
Several outsourcing firms provide dedicated and skilled resources that can improve business performance. Key performance indicators (KPIs) help you understand good strategies for business. These KPIs are essential to increase revenue and help your business determine what actions to take on the constituents that are not performing well. These include identifying revenue growth, revenue per client, profit margin, analyzing client retention rate, and customer satisfaction.
Assistance with Mergers and Acquisitions
It is always good to understand the business's past, present, and future before negotiating mergers, acquisitions, or investment opportunities to gain insight into the present revenue. CFO outsourcing can get you financial reports, analysis, forecasting, budgeting, and most importantly, creating the documents to complete transactions.
Financial Analysis and Modeling
Valuation of your business or the current projects can help you predict the revenue and growth cycle. Financial analysis shows the performance of the company and indicates failing strategies. To improve business performance, financial modeling develops real-world financial situations. With financial modeling, you can create a road map to execute projects.
Hiring a CFO team to evaluate and analyze business can be more costly and time-consuming when it comes to the hiring part. To ease the burden of all this, part-time CFO services help you access professional resources that provide all the required services. They can work as financial strategists and as business advisors. Some outsourcing firms can also provide a dedicated full-time CFO to meet your end needs.
You can save time to focus on doing important tasks and let outsourcing partners do the hard work. They will provide all the documents and reports to make better business decisions to gain a competitive edge.
We have expertise in providing CFO services to clients to reduce their work burden and help them focus on core competencies. Our services provide end-to-end solutions like accounting and bookkeeping, IT, data management, and other financial management services.
Next Steps
Learn more about our CFO support services and understand how our experts can help manage the business effectively.
Please email us at sales@analytix.com or call us at 781.503.9002 today.
Follow our blog for industry trends and the latest updates.